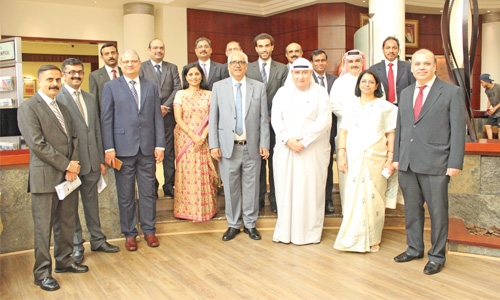 LIC International Bahrain logs healthy growth
Manama : LIC (International) Bahrain, the overseas arm of Life Insurance Corporation (LIC) said it has achieved total First Premium Income of over US$288 million, registering a growth of over 20 per cent
The company, while reviewing its performance at the end of first seven months of the year, said it crossed as at 15th August 2017, the total First Premium Income achieved last year. In terms of new policies written, the growth was over 15pc.
This was announced during the 99th Meeting of the Board of Directors of LIC (International) held at Movenpick Hotel, Bahrain on 24th August 2017.
The meeting was attended by V.K. Sharma, Chairman, LIC of India, Usha Sangwan, Managing Director, LIC of India, Abdulrahman Ali Alwazzan, Director, Intercol, Rajesh Kandwal, CEO & MD, LIC (International) Bahrain.
In a statement, the board of directors said that the company crossed a landmark of US$2 billion in terms of assets, with first billion achieved in the year 2013.
The investment income grew about 21pc to US$45.3m. The profit as at Q2 is US$7.4m with a growth of 9.5pc over last year.
Board also said that with the appointment of P.K. Arora as Signing Actuary of the Company, the risk management framework of the company will further get strengthened and the Company shall also be able to launch innovative products.