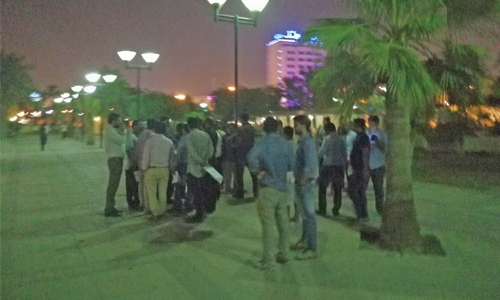 Unpaid salary: Workers claim company misled authorities
Manama : Protests by the ex-employees of a construction company over unpaid wages took a more intense turn yesterday with the workers now claiming that the company has misled the ministry by making false claims, including that on payment assurances.
According to the protesting workers, the company owners did so to get rid of the travel placed on them by the court for failing to clear the dues it owes to suppliers.
"He is trying to get the travel ban removed," a protesting worker told DT News adding: "If the ban is lifted he might leave and will not return to the Kingdom."
The company owners, according to the workers, assured the Ministry of Labour and Social Development that they had paid salaries to majority of their employees and rest of them were given assurances.
However, one of the protesting workers, on condition of anonymity, told DT News that they were given "no such assurances."
The company has paid salaries to 35 of their Bahraini employees and given assurances to some of the expatriates staff members, "but most of us didn't receive any thing,"claimed the protesting workers.
"In fact, they even refused to speak to us," a protesting worker said adding: "Every attempt to communicate with them failed."
The workers also told DT News that they were even refused entry to the company premises when tried reaching the officials for clarifications.
"So it is quite astonishing that they even make such claims," an ex-employee said
"We are looking for a clear response on our payments."
"We understand the financial difficulties they are in, but we need at least to be informed about their intentions," the protesting workers said.