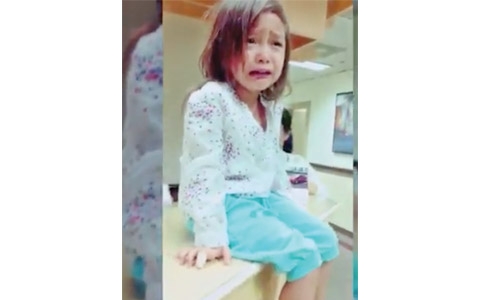 Doctor plays truant as patient struggles in pain
Manama : A local hospital has been accused of not attending to a four-year-old girl with excruciating pain apparently because there was no doctor on duty.
The nightmare started after the mother of the girl rushed to the nearest hospital at midnight as her daughter woke up in the middle of the night crying of severe earache.
"I put Chloe to bed at 9:30 but she woke up at midnight after severe ear ache. I took her to the hospital around 12:30 am and saw the whole lobby empty. There was no security guard even at the entrance," Debbie Howes, mother of Chloe, told DT News.
"I looked around and met a few nurses at the emergency room, they called the doctor, but the doctor on call refused to come and attend my daughter. Despite hearing her scream in pain, the doctor rather insisted on booking an appointment," she said.
"When the doctor refused to come and see my daughter, I insisted the nurses if I could speak to the doctor. The doctor initially refused but after putting considerable pressure, the doctor told me over the phone that it would take her some time to reach. I told her we would wait. Forty-five minutes after the phone call the doctor attended my daughter," she said.
"My daughter had an ear infection because she is a swimmer but this is absolutely irresponsible for a hospital or for a doctor on call to play truant with patients. We really hope this doesn't happen with anyone again and the officials in charge monitor the irregularities of private hospitals," she added.
DT News did get the access to the footage of Chloe crying of pain at the emergency room, as well as the conversation between the nurse and the doctor and Debbie and the doctor. With regards to the footage, DT News did contact the doctor for a statement but she told that she would only comment on the situation during her working hours.
The hospital cannot be named due to legal reasons.