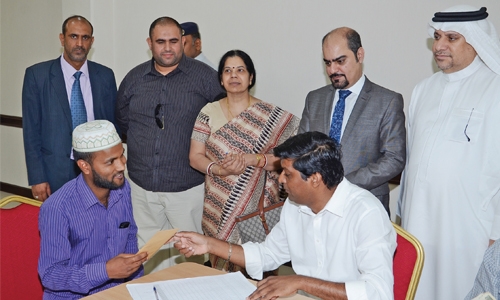 Company releases salary arrears of unpaid workers
Manama : A construction company has started releasing the salary arrears of workers who were not paid for a long time after the successful intervention of the Labour and Social Development Ministry.
The move follows orders from His Royal Highness Prime Minister Prince Khalifa bin Salman Al Khalifa to the Labour and Social Development Ministry to intensify efforts with the all the relevant parties, including the construction firm, to undertake necessary legal and financial procedures to ensure the payment of the workers' salary arrears. The company shall complete the payment of the salaries within a week to all the workers.
Workers who choose to leave the country shall also receive all their salary arrears, and the Ministry of Workers will facilitate their departure at the Bahrain International Airport. On the occasion, the Labour and Social Development Ministry expressed pride in the Premier's interest in boosting the development and production process in the Kingdom and keenness on applying the law to preserve labour rights, valuing the cooperation of all parties to implement the Prime Minister's orders.
The Ministry stressed the government's keenness on ensuring the rights of workers, who are the cornerstone of the development and progress. Workers who have received their salary arrears extended deepest thanks and appreciation to HRH the Prime Minister for his kind gesture and directives to solve their problem quickly. They also extended thanks to the Ministry of Labour and Social Development for its fruitful efforts to implement the Premier's orders.