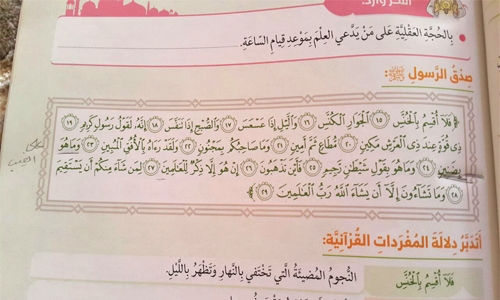 Quran misprint not in Bahrain
Manama : The Education Ministry has strongly refuted the claims of a misprint in one of its books.
"What has been lately circulated on social networks showing a literal error in a verse of the Holy Quran that's claimed to be in one of the ministry's books is baseless," the ministry confirmed in a statement issued yesterday.
The statement came after a public outrage over the alleged mistake, which was considered insulting to the Holy Quran and Islam.
"Attention parents. There's a mistake in Surat Al Takweer (a chapter in the Holy Quran) that's placed on page 67 of the Islamic Teachings book for fifth standard students," said the post that went viral on social media along with a picture of the mistake.
The ministry clarified that Surat Al Takweer was not included in the fifth standard Islamic Teachings book.
The ministry's Public Relations and Information Directorate pointed out that "Islamic teachings and values are among the ministry's priorities, as they're a pillar of the Bahraini identity."
DT News learnt that similar rumours were also spread in Kuwait recently and the error was proven to be in a book of a fellow GCC country.