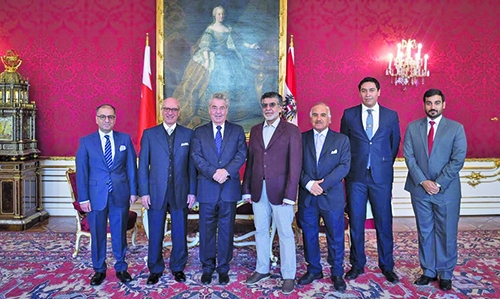 Bahrain Cabinet Affairs Minister, Austrian President hold meeting
Vienna: Referring to Bahrain's development boom at all levels, Cabinet Affairs Minister Mohammed bin Ibrahim Al Mutawa said that the Kingdom had managed to establish itself as a modern country that values democracy and freedom and respects human rights.
He was speaking in a meeting with Austria's President Dr. Heinz Fischer at the Hofburg Palace in Vienna yesterday. Shaikh Hussam bin Isa Al Khalifa and Bahrain's Ambassador to Austria Yusuf Abdulkarim were also present on the occasion.
Praising Austria, Al Mutawa described it as a model for openness and cultural and religious diversity. He stressed that the two countries share keenness on supporting efforts to reinforce the pillars of peace across the world.
Meanwhile, Dr. Heinz Fischer congratulated Prime Minister HRH Prince Khalifa bin Salman Al Khalifa on winning the "Flame of Peace" award conferred on him by the Association for the Furtherance of Peace in recognition of his role in promoting humanitarian work and enhancing peace at the global level.
He said that the 40-year old Bahraini-Austrian relations had always been based on mutual understanding and respect. "The two countries share the desire to develop their friendship and cooperation ties in various fields."
The Austrian President underlined his country's support to all efforts to promote understanding and rapprochement among various countries to foster worldwide peace.
Dr. Heinz Fischer also highlighted the long-standing relations between his country and Arab countries.
He expressed hope that the Bahraini-Austrian relations will continue growing in the coming period through extending bridges of communication and cooperation in the political, economic and cultural fields,
Expressing Austria's keenness on creating new opportunities for fruitful bilateral cooperation, he called for enhancing joint efforts to consolidate bilateral cooperation to create more opportunities in various sectors.