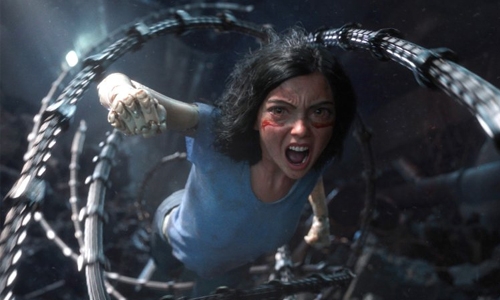 'Alita: Battle Angel': a muddled cyberpunk origin story
'Alita: Battle Angel' is a 2019 American cyberpunk action film based on Yukito Kishiro's manga series Gunnm, also known as Battle Angel Alita. It was directed by Robert Rodriguez, written by James Cameron and Laeta Kalogridis, and produced by Cameron and Jon Landau. Rosa Salazar stars as Alita, a cyborg, with supporting roles portrayed by Christoph Waltz, Jennifer Connelly, Mahershala Ali, Ed Skrein, Jackie Earle Haley and Keean Johnson.
Set several centuries in the future, the abandoned Alita is found in the scrapyard of Iron City by Ido, a compassionate cyber-doctor who takes the unconscious cyborg Alita to his clinic. When Alita awakens, she has no memory of who she is, nor does she have any recognition of the world she finds herself in. As Alita learns to navigate her new life and the treacherous streets of Iron City, Ido tries to shield her from her mysterious past.
Several weeks prior to its release, TheWrap reported that independent trackers were projecting the film to have a debut weekend gross of less than $25 million in the United States. While estimates were slightly higher than when it held its original December 2018 date, TheWrap wrote that, given its production budget between $150–200 million, the film would require strong overseas results in order to break-even and avoid becoming a box-office bomb.
On the weekend ending February 10, 2019, the film grossed $32 million from eleven international markets, including ten Asian countries along with the United Kingdom. The film opened at number-two in South Korea with $10.9 million, number-one in Taiwan with $4.2 million (where it was Fox's fourth biggest opening ever), grossed $4.2 million in the United Kingdom (with a 42% 3D share), and $2.9 million in Malaysia (where it was Fox's second biggest opening ever). The film outpaced The Maze Runner (2014) and Ready Player One (2018) in these markets by 23% and 5%, respectively.