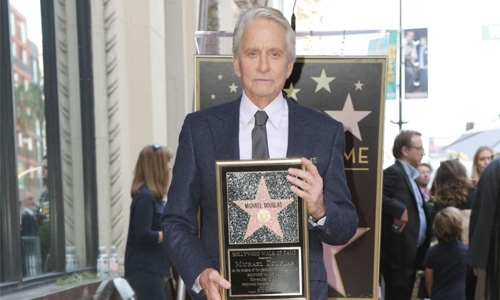 Actor Michael Douglas gets star on Hollywood Walk of Fame
Oscar-winning actor Michael Douglas got a star on the Hollywood Walk of Fame on Tuesday in honour of his 50 years in show business. The megastar was joined at the ceremony by his 101-year-old father and Hollywood legend Kirk Douglas as well as Jane Fonda, who starred with him in the 1979 drama "The China Syndrome," about an accident in a nuclear power plant.
Also attending was Douglas's wife, the actress Catherine Zeta-Jones, and other family members. "This is a great honour and I'm not getting any younger, I want to enjoy it with (my family)," the 74-year-old actor said as the star was unveiled. Douglas got emotional and teary-eyed as he addressed his father, telling him that his presence at the event meant a lot.
"I'll say it simply and with all my heart, 'I'm so proud to be your son,'" he said, choking up. Speaking at the ceremony, Fonda wondered why it took so long for the younger Douglas to finally get his star. "Michael Douglas and I share something far more specific and unique than acting together," she said. "We both come from families referred to by the press as Hollywood royalty.