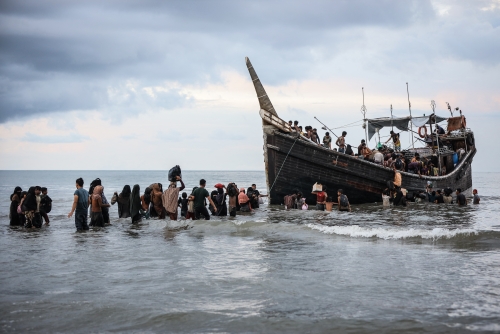 About 250 Rohingya refugees in Indonesia sent back to sea
AFP | Jakarta
The Daily Tribune – www.newsofbahrain.com
About 250 Rohingya refugees crammed onto a wooden boat have been turned away from western Indonesia and sent back to sea, residents said Friday.
The group from the persecuted Myanmar minority arrived off the coast of Aceh province on Thursday but locals told them not to land. Some refugees swam ashore and collapsed on the beach before being pushed back onto their overcrowded boat.
After it was prevented from landing, the decrepit boat travelled dozens of kilometres farther east to North Aceh. But locals again sent them back to sea late Thursday.
By Friday, the vessel, which some on board said had sailed from Bangladesh about three weeks ago, was no longer visible from where it had landed in North Aceh, residents said.
Thousands from the mostly Muslim Rohingya minority risk their lives each year on long and treacherous sea journeys, often in flimsy boats, to try to reach Malaysia or Indonesia.
"We're fed up with their presence because when they arrived on land, sometimes many of them ran away. There are some kinds of agents that picked them up. It's human trafficking," Saiful Afwadi, a community leader in North Aceh, told AFP on Friday.
Chris Lewa, director of Rohingya rights organisation the Arakan Project, said the villagers' rejection seemed to be related to a lack of local government resources to accommodate the refugees and a feeling that people smugglers were using Indonesia as a transit point to Malaysia.
"It is sad and disappointing that the villagers' anger is against the Rohingya boat people who are themselves victims of those smugglers and traffickers," Lewa told AFP on Friday.
She said she was trying to find out where the boat went after being turned away but "no one seems to know".
The UN refugee agency said in a statement Friday that the boat was "off the coast of Aceh", and gave a lower passenger count of around 200 people. It called on Indonesia to facilitate the landing and provide life-saving assistance to the refugees.
The statement cited a report that said at least one other boat was still at sea, adding that more vessels could soon depart from Myanmar or Bangladesh.
"The Rohingya refugees are once again risking their lives in search for a solution," said Ann Maymann, UNHCR's head of representatives in Indonesia.
A 2020 investigation by AFP revealed a multimillion-dollar, constantly evolving people-smuggling operation stretching from a massive refugee camp in Bangladesh to Indonesia and Malaysia, in which members of the stateless Rohingya community play a key role in trafficking their own people.
- No 'proper place' -
Locals in neighbouring Ulee Madon and Cot Trueng villages gave the refugees supplies, including food, clothing and gasoline, before turning their boat around on Thursday, North Aceh's Afwadi said.
To encourage their departure, locals also repaired the boat after Rohingya on board tried to sink it, he said.
Afwadi was among the locals who escorted the vessel away from shore, ensuring it left the area.
A village leader from Ulee Madon said residents did not have the resources to accommodate more refugees.
"We don't have any proper place to house them," Rahmat Kartolo told AFP late Thursday.
"It's not that we don't care about humanity, but these people sometimes run away."
Nearly 600 Rohingya refugees have reached western Indonesia this week, according to local authorities, with 196 arriving on Tuesday and 147 on Wednesday.
More than 2,000 Rohingya are believed to have attempted the risky journey to Southeast Asian countries in 2022, according to the UN agency.
Nearly 200 Rohingya died or went missing last year while attempting hazardous sea crossings, it estimated.