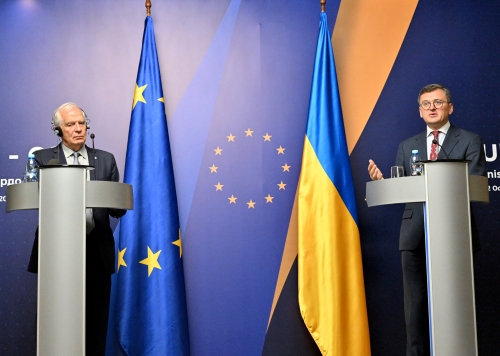 EU pledges lasting support at 'historic' Kyiv meeting
AFP | Kyiv
The Daily Tribune – www.newsofbahrain.com
The European Union reiterated its long-term support for Ukraine on Monday as its foreign ministers convened in Kyiv for a "historic" gathering beyond the bloc's borders.
The meeting came as disagreements grow among EU members over support for Ukraine and as Kyiv's forces make limited gains in a high-stakes counteroffensive against Russian troops in the south and east of the country.
Concerns are also rising over aid from Washington, where a government funding deal this weekend left out fresh help for Ukraine due to opposition from hardline Republicans.
But the White House on Monday rejected claims by the Kremlin that the West was fatigued on providing aid for Ukraine.
"If Putin thinks he can outlast us he's wrong," Press Secretary Karine Jean-Pierre said.
The EU's foreign policy chief Josep Borrell described Monday's gathering as "historic" but made clear there would be no new concrete announcements.
"It is the first time that we met in a candidate country. And, unfortunately, it was also the first time that the foreign ministers of the European Union met in a country at war," he said at a press conference.
Ukraine President Volodymyr Zelensky, meeting the foreign ministers, said the duration of the war -- now in its twentieth month -- was linked to the quality and quantity of support Ukraine receives from its allies.
"Our victory directly depends on our cooperation: the more strong and principled steps we take together, the sooner this war will end," Zelensky said in a statement.
To bring about a speedy end to the fighting, he urged the European Union to expand its sanctions on Russia and Iran, which has supplied attack drones for Russian forces.
And he called for the "acceleration" of work to direct "frozen Russian assets to finance the restoration of war-torn Ukraine".
The EU's 27 members have remained broadly united through the war on their support for Ukraine, hitting Russia with 11 rounds of sanctions and spending billions of euros on arms for Kyiv.
- 'Lasting support' -
However, Hungary, Russia's closest ally in the EU, could now be joined by Slovakia as a potential block to more backing, as populist Robert Fico pushes for power in Bratislava after winning elections there this weekend.
The foreign ministers of Hungary, Poland and Latvia did not attend the summit, a Ukrainian government official told AFP on condition of anonymity, adding that the Polish and Latvian representatives were ill.
There have also been tensions between Kyiv and some of its most strident backers -- most notably Poland -- over the influx of Ukrainian grain onto European markets.
Ukrainian Foreign Minister Dmytro Kuleba told Borrell that the Kremlin was investing "huge resources" into its efforts to stir disunity among Ukraine's allies, but urged them to stand firm.
"Putin's greatest expectation is precisely that the West and the world will tire of standing on the side of Ukraine in this war," he said.
France's top diplomat Catherine Colonna earlier addressed the concerns, saying the meeting was a signal of the bloc's "lasting support for Ukraine, until it can win".
"It is also a message to Russia that it should not count on our fatigue. We will be there for a long time to come," she said.
The Kremlin, which anticipated a lightning-fast takeover of Ukraine and is counting on Western countries tiring in their support, predicted Monday that Western war fatigue "will grow".
- 'Winter protection plan' -
Germany's Foreign Minister Annalena Baerbock called for a strategy to limit the fallout from an expected campaign of Russian strikes on Ukraine's energy grid in the coming months as temperatures drop.
"Ukraine needs a winter protection plan of air defence, generators and a strengthening of the energy supply," she said. "We saw last winter the brutal way in which the Russian president wages this war."
Ukrainian authorities say Russia has launched systemic aerial attacks on Ukraine's energy infrastructure, a strategy that last year left millions without heating or water.
Kuleba also urged EU support for a new maritime export route in the Black Sea, so it can reach its "full capacity".
Ukraine has been pushing for support for a naval route since Moscow scrapped a deal in July guaranteeing safe passage of grain exports in the Black Sea.
"A sea corridor through which Ukrainian grain can be exported to the world without the involvement of Russia is possible. We have already demonstrated it," Kuleba said.
Putin ordered troops into Ukraine in February 2022 and his army swept quickly through large swathes of the south and east of the country but were beaten back from the north.
In June, Kyiv launched a long-awaited counteroffensive but has acknowledged slow progress as its forces encounter deep lines of heavily fortified Russian defences.