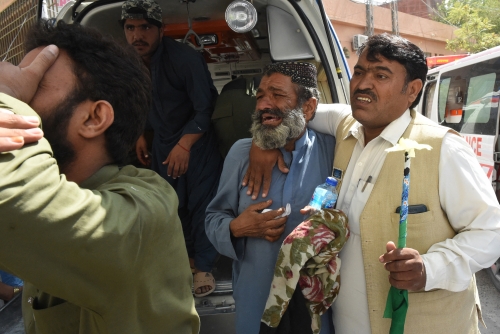 More than 50 killed, dozens wounded in Pakistan blasts
AFP | Quetta
The Daily Tribune – www.newsofbahrain.com
More than 50 people were killed and dozens more wounded in Pakistan's Balochistan province on Friday by a suicide bomber targeting a procession marking the birthday of Islam's Prophet Mohammed, officials said.
A second suicide attack by two men at a mosque hundreds of kilometres north in Khyber Pakhtunkhwa province led to a roof collapse that killed four people, officials said.
While the celebration of the Prophet's birthday is accepted by the majority of Islamic sects in Pakistan and elsewhere in the Muslim world, certain denominations view it as an unwarranted innovation.
In southwestern Balochistan, officials said a suicide bomber detonated a device as rallies from neighbourhood mosques converged on a meeting point in Mastung, around 40 kilometres (25 miles) south of the provincial capital, Quetta.
"My feet trembled and I was thrown to the ground," said 49-year-old Hazoor Bakhsh.
"As the dust settled, I saw people scattered in all directions, some screaming while others called out for help."
Local hospitals were overwhelmed by the number of wounded, and provincial authorities used social media platforms to appeal for blood donors.
The death toll kept climbing throughout the day.
"I can confirm that the death toll has increased to 52, with over 70 individuals injured," Munir Ahmed Shaikh, the deputy inspector-general of Balochistan's police force, told AFP.
Every year, mosques and government buildings are elaborately illuminated with strings of lights, and people march in processions to mark the Prophet's birthday.
On the same occasion in April 2006, a suicide bomber killed at least 50 people in the port city of Karachi after detonating a device at a gathering of Sunni Muslims.
- Surge in violence -
Friday's blast comes as Pakistan prepares for an election due in January next year -- while grappling with a political crisis, a crippled economy, and a surge in militant violence inspired by the return to power of the Taliban in Afghanistan in 2021.
Jan Achakzai, Balochistan's minister for information, announced a three-day mourning period.
Balochistan, Pakistan's least populous province, is also home to several militant groups fighting for independence or a greater share of the region's mineral resources.
Hundreds of kilometres north in Hangu, Khyber Pakhtunkhwa province, four people were killed after the roof of a mosque collapsed following a suicide attack.
"Two militants, armed with automatic firearms, hand grenades, and suicide vests attempted to breach the mosque's security," senior district police officer Nisar Ahmad told AFP.
"They were intercepted at the main entrance leading to an exchange of gunfire. One of them detonated his vest, while the other managed to enter the mosque's hall through a window."
Ahmad said most of those inside had managed to escape as the shooting started, but the detonation of the second bomber's vest brought the roof down, killing four people.
In July, more than 40 people were killed in a suicide bombing in Khyber Pakhtunkhwa at a religious political party's gathering.
Pakistan's Taliban have stepped up attacks against military and government targets since the return to power of the Taliban in neighbouring Afghanistan.
But the group said it had nothing to do with the Balochistan attack.
The regional chapter of the Islamic State group, known as Islamic State-Khorasan (IS-K), has also carried out attacks in the area in the past.
"The attack on innocent people who came to participate in the procession... is a very heinous act," the interior ministry said in a statement.
Separately, Pakistan's military said Friday four soldiers had been killed as they fought an attempt by TTP militants to infiltrate Balochistan from Afghanistan.