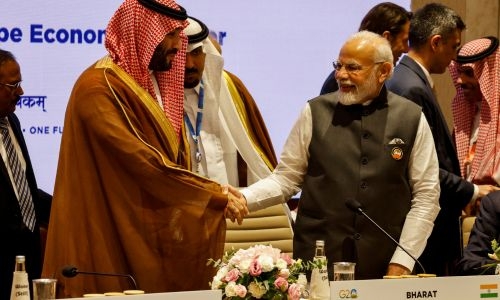 Modern-day spice route to link Europe, Middle East and India
AFP | New Delhi
The Daily Tribune – www.newsofbahrain.com
A broad alliance of states yesterday unveiled ambitious plans to create a modern-day Spice Route linking Europe, the Middle East and India, boosting trade ties with potentially wide- ranging geopolitical implications.
The United States, Saudi Arabia, the European Union, the United Arab Emirates and others launched the initiative to link railways, ports, electricity and data networks and hydrogen pipelines on the sidelines of the Group of 20 summit in New Delhi.
Although heavily trade-focused, the scheme could have wide-ranging implications -- including developing contacts between long-time foes Israel and Saudi Arabia.
Signatories hope it can help integrate India's vast market of 1.4 billion people with countries to the west, offer a counterbalance to lavish Chinese infrastructure spending, boost Middle Eastern economies and help normalise relations between Israel and Gulf Arab states.
"This is a real big deal," said US President Joe Biden at the launch event, calling the plan "historic".
European Commission President Ursula von der Leyen said the so-called India–Middle East– Europe economic corridor was "much more than 'just' a railway or a cable".
"It is a green and digital bridge across continents and civilisations," she said. One proposed project would link railway and port facilities across the Middle East -- including the United Arab Emirates, Saudi Arabia, Jordan and Israel -- potentially speeding trade between India and Europe by up to 40 percent.
Pramit Pal Chaudhuri, South Asia practice head at the Eurasia Group, said a shipping container that today travels from Mumbai, through the Suez Canal to Europe could in the future go by rail from Dubai to Haifa in Israel and on to Europe, saving both money and time.
At present, the Suez Canal is a major bottleneck to world trade, handling roughly 10 percent of global maritime trade but often beset by disruptions.
In March 2021, the giant container ship Ever Given caused a nearly week-long stoppage in Suez traffic after it became lodged diagonally in the waterway.
'Game changer'
According to details seen by AFP, the economic corridor would develop infrastructure to enable the production and transport of "green hydrogen".
It would also strengthen telecommunications and data transfers through a new undersea cable connecting the region.
French President Emmanuel Macron said work was now needed to make the plan "real".