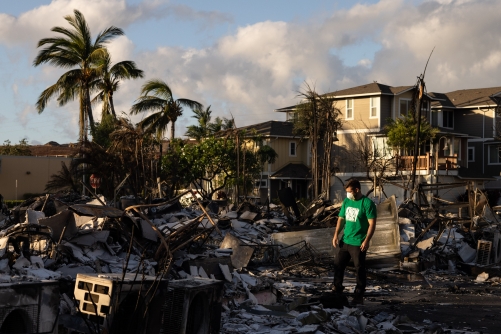 Hawaii fire death toll nears 100, anger grows
AFP | Lahaina
The Daily Tribune – www.newsofbahrain.com
The death toll in Hawaii from the deadliest US wildfire in more than a century was expected to cross the 100-mark Sunday, fueling criticism that an inadequate official response contributed to the heavy loss of life.
Officials updated the toll to 93 late Saturday, but warned the figure was likely to rise as recovery crews with cadaver dogs continued the grim task of searching burned-out homes and vehicles in the epicenter of Lahaina.
The historic coastal town on the island of Maui was almost completely destroyed by the fast-moving inferno early Wednesday morning, with survivors saying there had been no warnings.
When asked Sunday why none of the island's sirens had been activated, Hawaii Senator Mazie Hirono said she would wait for the results of an investigation announced by the state's attorney general.
"I'm not going to make any excuses for this tragedy," Hirono, a Democrat, told CNN's "State of the Union." "We are really focused, as far as I'm concerned, on the need for rescue, and, sadly, the location of more bodies."
More than 2,200 structures were damaged or destroyed as the fire tore through Lahaina, according to official estimates, wreaking $5.5 billion in damage and leaving thousands homeless.
"The remains we're finding are from a fire that melted metal," said Maui Police Chief John Pelletier. "When we pick up the remains... they fall apart." Among the ruins in Lahaina, a town of more than 12,000 and former home of the Hawaiian royal family, an iconic, 150-year-old banyan tree remained standing but severely burned, AFP journalists saw.
President Joe Biden said on Sunday he was "looking at" the possibility of visiting the island.
Questions over alert system
The wildfire is the deadliest in the United States since 1918, when 453 people died in Minnesota and Wisconsin, according to the non-profit research group the National Fire Protection Association.
The death toll surpassed 2018's Camp Fire in California, which virtually wiped the small town of Paradise off the map and killed 86 people. Maui suffered numerous power outages during the crisis, preventing many residents from receiving emergency alerts on their cell phones.
No emergency sirens were sounded, and many Lahaina residents have spoken of learning about the blaze because of neighbors running down the street."The mountain behind us caught on fire and nobody told us jack," resident Vilma Reed, 63, told AFP.
"You know when we found that there was a fire? When it was across the street from us." Reed, whose house was destroyed by the blaze, said she was depending on handouts and the kindness of strangers, while sleeping in a car with her daughter, grandson and two cats.