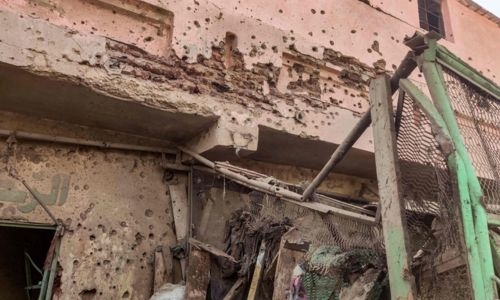 Sudan fighting intensifies despite US sanctions
AFP | Khartoum
The Daily Tribune – www.newsofbahrain.com
Shelling rocked greater Khartoum yesterday, as fighting between Sudan's warring generals intensified despite US sanctions imposed after the collapse of a US- and Saudi-brokered truce.
Witnesses reported artillery fire around the state television building in the capital's sister city of Omdurman, just across the Nile.
For nearly seven weeks, deadly fighting between the regular army and the paramilitary Rapid Support Forces has gripped Khartoum and the flashpoint western region of Darfur despite repeated efforts to broker a humanitarian ceasefire.
The army announced it had brought reinforcements to the capital from other parts of Sudan to participate in "operations in the Khartoum area".
Sudan analyst Kholood Khair said the army was "expected to launch a massive offensive" to clear the paramilitaries from the streets of Khartoum.
Washington slapped sanctions on the warring parties Thursday, holding them both responsible for provoking "appalling" bloodshed.
The US Treasury placed two major arms companies of the Sudanese Armed Forces, Defence Industries System and Sudan Master Technology, on its blacklist.
In parallel, it placed sanctions on gold miner Al Junaid Multi Activities Co and arms trader Tradive General Trading, two companies controlled by RSF commander Mohamed Hamdan Daglo and his family.
The State Department meanwhile imposed visa restrictions on both army and RSF officials, saying they were complicit in "undermining Sudan's democratic transition." It did not provide their names.
Army eyes 'military gains' Analysts question the efficacy of sanctions on Sudan's warring sides, both of which amassed considerable wealth during the rule of longtime dictator Omar al-Bashir, whose government was subjected to decades of international sanctions before his overthrow in 2019.
So far neither side has managed to gain a decisive advantage.
The regular army has air power and heavy weaponry, but analysts say the paramilitaries are more mobile and better suited for urban warfare.
Just hours after the army announced it was quitting US- and Saudi-brokered ceasefire talks on Wednesday, troops attacked key bases of the RSF in Khartoum.
One air and artillery bombardment by the army struck a Khartoum market, killing 18 civilians and wounding 106, a committee of human rights lawyers said.
The army will want to make "some military gains before committing to any future talks, in order to improve their bargaining position", said Khair, the founder of Khartoum-based think tank Confluence Advisory.
Since fighting erupted on April 15, more than 1,800 people have been killed, according to the Armed Conflict Location and Event Data Project.
The UN says 1.2 million people have been displaced within Sudan and more than 425,000 have fled abroad.