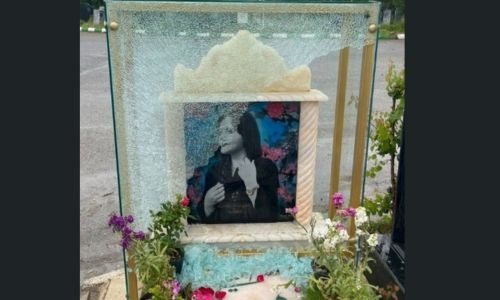 Grave of Mahsa Amini vandalised in Iran
AFP | Paris
The Daily Tribune – www.newsofbahrain.com
The grave of Mahsa Amini, the young Iranian Kurdish woman whose death sparked a protest movement has been vandalised, according to activists and the family lawyer.
Amini, 22, died in September after being arrested by Tehran's morality police for purportedly flouting the strict dress rules for women in the Islamic republic.
The protests that began after her death challenged the Islamic system that has ruled Iran since the 1979 revolution.
They have weakened in amplitude over the last months but actions still continue.
Amini, who had been visiting Tehran with her family, is buried in her hometown of Saqez in Iran's Kurdistan province with activists alleging the authorities are determined to prevent any public rallying around it.
The France-based Kurdistan Human Rights Network (KHRN) said that the grave, which features her Kurdish name Zhina in large Persian letters, had been attacked on the morning of May 21.
Images published on social media, said to be from the Instagram account of her brother Ashkan, showed that the glass protecting a portrait of Amini at the head of the tombstone had shattered.
"Sadly, on Sunday morning, people who are already known to us, and who have done the same things in the past, attacked the grave of Zhina Mahsa Amini," the family's lawyer Saleh Nikbakht said in a statement published by KHRN.