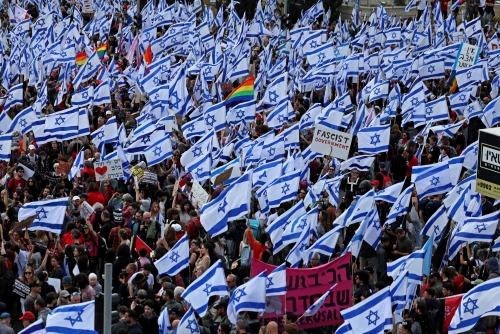 Netanyahu pauses judicial reform in strike-stricken Israel
AFP | Tel Aviv
The Daily Tribune – www.newsofbahrain.com
Israel's Prime Minister Benjamin Netanyahu yesterday night paused a judicial overhaul which triggered a general strike, political division and mass protests in the country's most severe domestic crisis in years.
After nearly three months of increasing tensions, Netanyahu said in a broadcast: "Out of a sense of national responsibility, out of a will to prevent a rupture among our people, I have decided to pause the second and third readings of the bill."
His comments came a day after he sacked his defence minister, Yoav Gallant, who had called for a halt to the legislative process citing national security concerns. Yesterday, prior to the prime minister's address, tens of thousands of protesters had rallied near the parliament in Jerusalem after the strike declaration.
Flights had been disrupted, hospitals stopped non-emergency services, and even diplomats walked off the job. But immediately after Netanyahu announced the pause, Arnon Bar-David, chairman of the Histadrut trade union confederation, called off the strike.
About 80,000 demonstrators joined the Jerusalem rally against the reform package, the latest such protest to draw tens of thousands, Israeli media estimated. A nearby counter-demonstration drew thousands of right-wing backers of the overhaul, an AFP journalist said.
The proposed reforms would curtail the powers of the Supreme Court and give politicians greater powers over the selection of judges. Demonstrators have for months decried the plans as a threat to Israel's democracy. The Israel Medical Association had joined the strike call, announcing "a full strike in the health system" affecting all public hospitals, though it said life-saving treatments continued.
The stoppage also affected flights at Ben Gurion International Airport near Tel Aviv, where an AFP journalist saw multiple delayed departures. Diplomatic staff was among those walking out, with Washington embassy spokesman Elad Strohmayer tweeting that the Israeli mission "will be closed... until further notice".