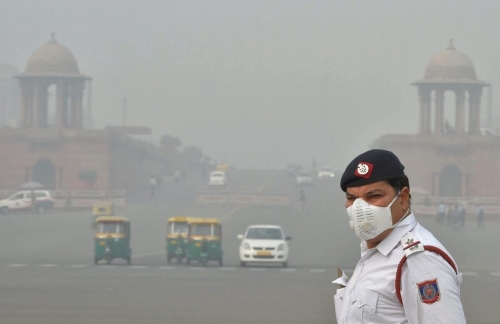 Indian industry turns to biomass as capital bans coal in pollution fight
Agencies | New Delhi
The Daily Tribune – www.newsofbahrain.com
A toxic smog engulfs India's capital every winter, as particles from bonfires of crop stubble and vehicle exhausts hang in the air, but New Delhi is enforcing a ban on coal burning from this month that is forcing industry to shift to biomass.
The drive has pushed about half the 1,695 units in a cluster of small industries around one of the world's most polluted capitals to use biomass, regulators told Reuters, up from fewer than 15 per cent counted in a 2020 study.
"You can tell the fuel being used by the colour of the steam and the smell in the air," said a manager at a small unit in the global cloth recycling hub of Panipat, about 100 km (62 miles) from New Delhi, who spoke on condition of anonymity.
"The air has improved since we shifted to biomass."
The change in air quality is as yet hard to quantify.
But in Panipat, for example, the 2020 study, by thinktank the Centre for Science and Environment (CSE), estimated a fall of 70 per cent to 80 per cent in sulphur oxide emissions, and a drop of 40% to 60% in nitrogen oxides, if all coal-based industries switched.
Textile recyclers, dyers and food processors in the city in the northern state of Haryana, along with those in neighbouring Sonipat and Faridabad, have quickly switched away from coal, the previous fuel of choice.
The change to biomass, which usually consists of pellets or briquettes of farm residue, promises to slash emissions and spur farmers to sell such residue instead of burning it, say industry officials and regulators.
The switch could also bring lower costs, since biomass is 14 per cent cheaper than coal, a 2021 study sponsored by the British government showed.
King coal
Coal was "king" of fuels in India's National Capital Region (NCR) after the South Asian nation banned petcoke - a polluting, energy-intensive alternative - in 2017, the CSE report showed.
It was the primary fuel for about a quarter of all industries in Haryana's three major clusters near New Delhi.
Now coal is losing out to biomass.
"Many petcoke traders became coal traders after a ban on petcoke in 2017," said Kamaljeet Singh, a senior pollution control official in Panipat. "Now hundreds of coal traders have become biomass traders."
About 27 per cent of the region's companies use natural gas, while more than 250 units, or 15 per cent, use electricity, the regulators said.
"It has been easier for small industries to convert to biomass instead of converting to natural gas because of lower prices," Monish Ahuja, chairman of the Confederation of Biomass Energy Industry of India, told Reuters.
About 81 per cent of the 398 industrial units operating in Panipat alone have converted to biomass, Singh added, devouring coal's share of 56.2 per cent in 2020.
Industries are experimenting with agricultural waste such as rice husk, groundnut and mustard briquettes as fuel, regulators and owners of small textile and recycling mills in Panipat said.
Rising prices
But biomass traders and consumers are voicing concern about rising prices after the coal ban and seasonal fluctuations in the supply of crop residue, citing these as factors limiting wider national use of the fuel.
Average prices of biomass briquettes rose 36 per cent to 7,711 rupees ($94.80) a kg by the end of 2022, versus 5,677 rupees at the end of 2021, on online marketplace BiofuelCircle, based in the western city of Pune.
But owners of industrial units in Panipat said the local nature of New Delhi's coal ban confers a cost advantage on similar industries elsewhere in India, as they can continue using coal.
"Because of these restrictions, Panipat industries are finding it extremely difficult to compete," said Bhim Rana, president of a dyers' association in the city.
Higher costs fuelled by taxes and a ban on exports of biomass briquettes were among factors attributable to policy that limit supply, the British study said.
"Supply is about a third or fourth of total demand currently," said Suhas Baxi, chief executive of BiofuelCircle.
The study recommended developing a biomass trading platform, better storage, concessional loans and lower interest rates for investors in manufacturing.
"Explicit government policy support will be needed to overcome the constraints," it added. ($1=81.3430 rupees)