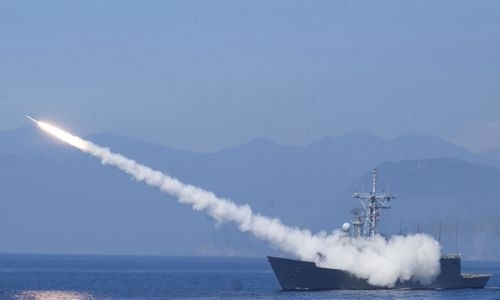 China fires multiple missiles around Taiwan
Agencies | Beijing
The Daily Tribune – www.newsofbahrain.com
China fired multiple missiles around Taiwan on Thursday as it launched unprecedented military drills a day after a visit by US House of Representatives Speaker Nancy Pelosi to the self-ruled island that Beijing regards as its sovereign territory.Soon after the scheduled start at 0400 GMT, China's state broadcaster CCTV said the drills had begun and would end at 0400 GMT on Sunday.
It said the exercises, the largest ever by China in the Taiwan Strait, would include live firing on the waters and in the airspace surrounding Taiwan.China's Eastern Theatre Command said it had completed multiple firings of conventional missiles on waters off the eastern coast of Taiwan as part of the planned exercises.The last time China fired missiles into waters around Taiwan was in 1996.
Taiwan's defence ministry said several Dongfeng missiles had been fired in waters to the northeast and southwest of the island. read moreTwo missiles were also launched by China near Taiwan's Matsu islands, which lie off the coast of China, at around 2 p.m. local time (0600 GMT) in the direction of drill zones announced by China, according to an internal Taiwan security report seen by Reuters and confirmed by a Taiwan security source.
Taiwan officials have said the drills violate United Nations rules, invade Taiwan's territorial space and are a direct challenge to free air and sea navigation.
China is conducting drills on the busiest international waterways and aviation routes and that is "irresponsible, illegitimate behaviour," Taiwan's ruling Democratic Progressive Party said.
Taiwan's cabinet spokesman, expressing serious condemnation of the drills, said also that websites of the defence ministry, the foreign ministry and the presidential office were attacked by hackers.
Chinese navy ships and military aircraft briefly crossed the Taiwan Strait median line several times on Thursday morning, a Taiwanese source briefed on the matter told Reuters.
By midday on Thursday, military vessels from both sides remained in the area and in close proximity. Taiwan scrambled jets and deployed missile systems to track multiple Chinese aircraft crossing the line.
"They flew in and then flew out, again and again. They continue to harass us," the Taiwanese source said. China, which claims Taiwan as its own territory and reserves the right to take it by force, said on Thursday its differences with the self-ruled island were an internal affair.
"Our punishment of pro-Taiwan independence diehards, external forces is reasonable, lawful," China's Beijing-based Taiwan Affairs Office said.