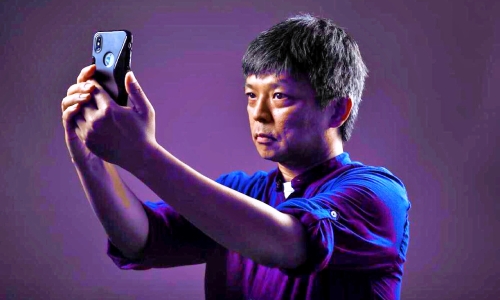 Japanese digital finger artist Yusuke Akamatsu to exhibit in Middle East for first time
TDT | Manama
The Daily Tribune – www.newsofbahrain.com
The renowned Japanese artist Yusuke Akamatsu believes Middle Eastern art has a global impact as he prepares to exhibit his artwork at the Royal Investment Summit, an initiative of Bahrain-based Shaikh Abdulaziz bin Duaij Al Khalifa Private Office, to take place at the Ritz-Carlton JBR Hotel in Dubai on January 22-24.
Themed ' Future of Investments in the GCC' summit will be held with in-person attendees in the UAE next year, furthering the organiser's vision of enhancing investment and cross-border partnerships.
In an exclusive interview with the Daily Tribune, Mr Akamatsu said he will donate one of his notable artworks to Shaikh Abdulaziz at the summit while some of his prominent creations will be showcased at the venue.
The experiential artist who combines new media with traditional artistic methods was featured in Wall Street International last year and has presented his work in famous art galleries such as the Shtager and Saatchi Gallery in London.
"I will be happy if people in the world, who don't know me, can look at my work and be inspired by it," he added.
Legends like David Lynch, Wong Kar-wai, Kon Ichikawa are the idols of this avant-garde painter, who was apprenticed to Takeshi Kitano.
According to Mr Akamatsu, the vibrations and resonance stemming from human unconsciousness are central themes of his art.
Using the lingo of the street, he creates an abstract collage portraying the anxiety of the modern metropolis.
"We build cities where we live together; every day, we voice something, and we are moved by it.
What I do is to cut it out and make a work of art out of it.
It always requires timing and inspiration," the artist stated.
He feels it is important for him to express his thoughts using items that everyone has, announcing the iPhone as his preferred canvas.
Collage, assemblage, drawing and montage come together digitally to conjure up eclectic imagery.
"Speed is essential to capture the moment," avers the tech-savvy Mr Akamatsu, as his fingers deftly double up as brushes on the screen of his iPhone.
No wonder then that he is clued-in to phenomena like Non Fungible Tokens (NFTs), digital assets that represent objects like art, collectables, and in-game items.
"It's a new form.
If I can be one of those creating the mainstream, I am interested," asserts Mr Akamatsu.
NFTs are traded online, often with cryptocurrency, and are generally encoded within smart contracts on a blockchain.
With a background in cinematography, Mr Akamatsu also continues to blend video and photography to create experimental movies.
Commenting on changes in how art is perceived in the post-modern ' always connected' world, the digital finger painter said he no longer goes against the energy that rises from the unconscious.
"The world will further move to new changes.
We, the new artists, should focus on the evolution of the thought, not the form," he states.
When asked if he would create art catering to specific tastes in the Arab world, Mr Akamatsu declared, "I am like a chameleon.
The range of my work is diversified.
The more I blend into a city, the more I will absorb the essence of the place; this will reincarnate as a work of art, in a style that meets my expectations."
About Yusuke Akamatsu: www.yusukeakamatsu.com