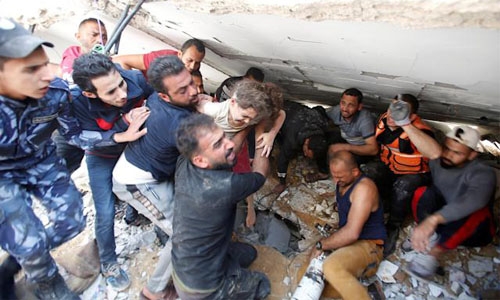 With no end in sight, Israel-Gaza bloody conflict enters a second week
Reuters | Gaza/Tel Aviv
The Daily Tribune – www.newsofbahrain.com
Israel pummeled Gaza with airstrikes yesterday and Palestinian fighters launched rockets at Israeli cities despite a flurry of US and regional diplomacy that has so far failed to halt more than a week of deadly fighting.
Israel's missile attacks on the densely populated Palestinian enclave killed a top commander and left a crater in a seven-storey office building that Israel's military said was used by Hamas.
Rocket barrages, some of them launched in response to the killing of Hussam Abu Harbeed, sent Israelis dashing for bomb shelters with direct hits on a synagogue in Ashkelon and an apartment building in Ashdod.
With the fiercest regional hostilities in years showing no sign of abating, US Secretary of State Antony Blinken urged all sides to protect civilians. Washington, Egypt and UN mediators stepped up diplomatic efforts, and the UN General Assembly will meet to discuss the violence on Thursday.
Gaza health officials put the Palestinian death toll since hostilities flared up last week at least 204, including 58 children and 34 women. Ten people have been killed in Israel, including two children. The cross-border hostilities have been accompanied by an uptick of violence in the occupied West Bank, and by riots involving Arab and Jewish mobs within Israel and clashes in Jewish-Arab communities.
Police said an Israeli man died in hospital yesterday after being attacked by Arab rioters last week. As Palestine mourned Harbeed's death, Israel's military said he had been "behind several anti-tank missile terror attacks against Israeli civilians", and an Israeli general said his country could carry on the fight "forever".
At least seven Palestinians were killed in Israeli strikes on Gaza yesterday by evening. Two died in the missile attack on the office building, which Israel's military said was used by Hamas internal security. "My children couldn't sleep all night even after the wave of intensive bombing stopped," said Umm Naeem, 50, a mother of five, as she shopped for bread in Gaza City.