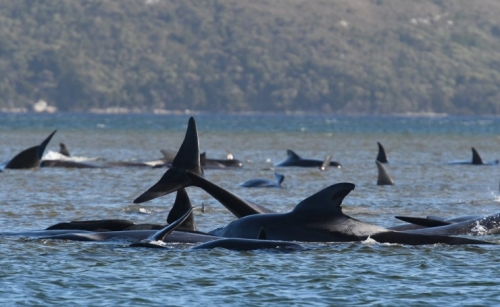 One-third of 270 whales stranded at Australia's Tasmania likely dead
Sydney
Rescue efforts to save the remaining pilot whales stranded along the west coast of Australia's Tasmania entered a critical phase Tuesday morning, as experts said one-third of the 270 mammals were likely already dead.
The whales become stranded on Monday across three locations at Macquarie Harbour, near the town of Strahan.
Marine Conservation Program wildlife biologist Kris Carlyon said that most of the whales were inaccessible by boat and by Monday evening around one-third were presumed dead, according to Deutsche press agency (DPA).
The rescue will be slow and phased, with the team of around 60 rescuers forced to focus their efforts on the whales "with the best chance."
"Some animals may be simply too big or in an unsuitable location," Carlyon said.
"In terms of mass strandings in Tasmania, this is up there with the trickiest we've had to deal with."
The teams will first attempt to refloat several of the animals and assess their behavior to see "whether we can shift them in water or whether we're going to have to try some other option."
Carlyon said the rescue is likely to take days, but long-fin pilot whales are a robust species and if the conditions stay cool, they can survive for quite a few days.
"Given that they're wet, they're cool, we've got some really suitable weather actually."
"It's pretty ugly out there for people on the ground but as far as whales go it's ideal," he said, referring to cold weather conditions.
Around 200 whales are stranded on a sandbar off the Macquarie Heads boat ramp, with another pod several hundred meters further out, and about 30 more are along Ocean Beach.
Mass strandings are not uncommon off the island state of Tasmania, but there has not been an incident of more than 150 animals for over a decade.
Carlyon said the cause of strandings are often unknown and could come down to "simple misadventure," or the animals being drawn into the area for feeding on the coast.
The team assisting the rescue is made up of around 40 experts from the state's Department of Primary Industries, Parks, Water and Environment (DPIPWE), trained volunteers, and police.
According to DPIPWE's Marine Conservation Program, Tasmania is the only Australian state where mass strandings of whales and dolphins regularly occur.
Successful rescue efforts often require specialized equipment and techniques.
Pilot whales are a very social species and once rescued may want to return to the herd, experts said.