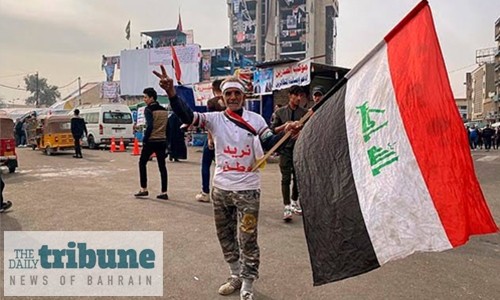 Iraq's top Shiite cleric Grand Ayatollah Ali Al Sistani yesterday condemned recent killings and kidnappings of protesters, urging the state to assert control over the widespread use of weapons. Mr Al Sistani also called on the armed forces to remain professional, loyal to the state and free from foreign influence, in a sermon delivered in the southern city of Karbala by his representative. Armed forces "must be loyal to the nation, and free from foreign interference", he said.
Iraq has been rocked anti-government protests for more than two months. More than 440 people have been killed since October 1, according to unofficial tallies based on reports from police and medical sources. The protesters repeatedly criticise Iran's influence in Iraqi politics and the role of Iran-backed Iraqi militias.
A string of mysterious acts of bloodshed by unknown groups has put anti-government protesters on edge and eroded their faith in the ability of state security forces to protect them. Last Friday, 25 protesters were killed when gunmen in pickup trucks opened fire in Baghdad's Khilani Square.
That same week, mysterious knife attacks targeted over a dozen anti-government protesters in Tahrir Square, the hub of the protest movement. In recent days, abductions and assassinations of high-profile civil activists have stoked paranoia among demonstrators. Protesters largely blame Iran-backed militias for the attacks and see the violence as a campaign to instil fear and weaken their peaceful movement.
The UN urged Iraqi authorities to hold accountable those responsible for the murders and abductions of activists and protesters. "Groups referred to as 'militia', 'unknown third parties', 'armed entities', 'outlaws' and 'spoilers' are responsible for the deliberate killings and abductions of demonstrators," said a UN report released on Wednesday.
The report said "credible information" indicated that activists and journalists were being targeted for arrest by Iraqi security forces and "groups described as 'militia." At least five high-profile activists have recently gone missing, the report said.