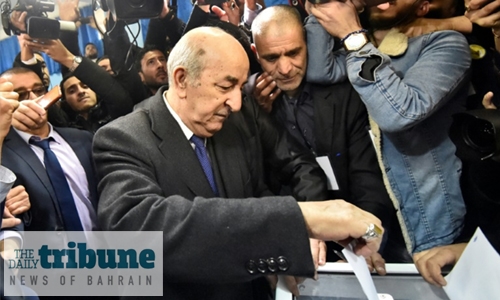 Tebboune elected Algerian president
Former prime minister Abdelmadjid Tebboune won Algeria's presidential election with 58.15 per cent of the vote, according to preliminary results declared on Friday, amid another day of large protests. Thursday's vote was fiercely opposed by a nine-month-old protest movement calling for a complete overhaul of the political system.
The low turnout of about 40 per cent was in part because protesters called for a boycott of what they said was a sham vote. On the streets of Algiers, protesters came out in force following the announcement to continue their mostly peaceful campaign for a complete reform of the political system.
Some smeared their faces with white powder, in reference to the Mr Tabboune's son, who was arrested in May last year in connection to large shipment of cocaine discovered in the port of Oran. Demonstrators said that for them, the winner made no difference as all of the candidates represent the same regime as ousted President Abdelaziz Bouteflika.
"I'm not happy about the results, but I am happy that people are still protesting and still out here fighting. We're still out saying no, we don't want this system and these elections will not give us the change we want," protester Amina, 28, told AP.