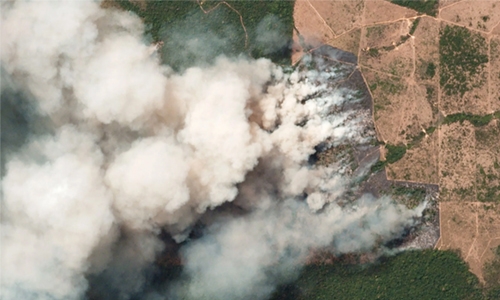 G7 leaders vow 'concrete measures' over Amazon fires
G7 leaders gathering in France this weekend plan to hammer out "concrete measures" in response to the wildfires raging in the Amazon rainforest, putting them on a collision course with Brazil's rightwing leader. French President Emmanuel Macron, who is hosting the G7 summit in the resort town of Biarritz, went so far on Friday as to accuse his Brazilian counterpart of lying on pledges in June to help fight global warming June.
"Given the attitude of Brazil over the last weeks, the president can only conclude that President Bolsonaro lied to him at the Osaka (G20) summit," a French presidential official said. France said it will oppose an ambitious trade deal between the EU and South America's Mercosur nations, which would effectively kill any chance of ratification.
Macron had already drawn Bolsonaro's ire by saying the Amazon fires would be a priority on the G7 agenda, a stance that was backed Friday by German Chancellor Angela Merkel. Britain's new Prime Minister Boris Johnson is also "extremely concerned by the fires," a spokeswoman said, as demonstrations were held across Europe calling for Brazil to step up actions to quench the blazes.
Bolsonaro blasted the move to make the fires as topic for G7 leaders without any participation by Brazil, saying it reflected a "colonialist mentality." The latest official figures show 76,720 forest fires were recorded in Brazil so far this year.