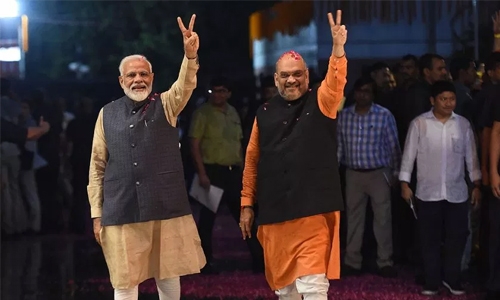 Saffron surge talk of the town
Indian election results dominated the discussions here yesterday in the Indian expatriate community as Prime Minister Narendra Modi's landslide win produced divided opinions. The news of Modi winning a second term generated mixed reaction among the NRIs in Bahrain. While some were excited with the results, others were less than enthused.
As suggested by many exit poll surveys, Modi unleashed a massive saffron surge sweeping most parts of India yesterday to win another five-year term. Although final results were yet to be published, a rolling vote count by the election commission showed the Bharatiya Janata Party (BJP) increased its majority with 303 out of 542 elected lower house seats.
The BJP's main rivals Congress were on just 51 seats, with Rahul Gandhi -- the great-grandson, grandson and son of three premiers -- conceding defeat and congratulating Modi. "Thank you, India! The faith placed in our alliance is humbling and gives us the strength to work even harder to fulfil people's aspirations," Modi tweeted.
The main opposition alliance Congress party admitted defeat early on as the party headed by Rahul Gandhi lost stunningly. Over 600 million people are believed to have voted in the elections that spanned over 6 weeks. "Smriti Irani (of the BJP) has won in Amethi and I congratulate her. The people of Amethi have given their mandate," Gandhi told a news conference.