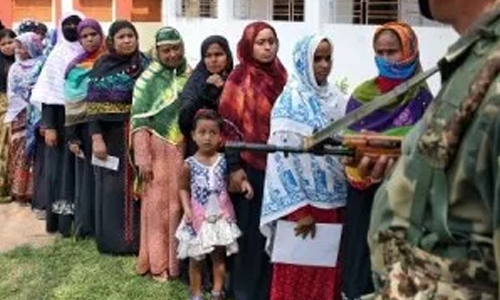 Indians vote in penultimate phase
Voters in north India lined up early yesterday to cast their ballots in the second-to-last round of a seven-phase general election, with Prime Minister Narendra Modi facing a diverse group of opposition parties seeking to deny him a second term. More than 100 million people across seven states were voting on Sunday. The 39-day-long poll kicked off on April 11 with Modi as front-runner after an escalation of tension with neighbouring Pakistan.
But opposition parties have taken heart at what they see as signs Modi's Bharatiya Janata Party (BJP) may be losing ground and have begun negotiations over a post-election alliance even before polling ends on May 19. Votes will be counted on May 23. The president of the main opposition Congress party, Rahul Gandhi, said the main issues in the election were unemployment, economic hardship in the countryside, the de-monetisation of bank notes and a new sales tax.
"It was a good fight," Gandhi said after he cast his vote. "Narendra Modi used hatred, we used love. And I think love is going to win." Some voters in the capital, New Delhi, said they were backing Modi because they were won over by his tough stance on security. Indian warplanes attacked what the government said was a terrorist training camp in Pakistan in February, soon after a suicide car bomb attack in the disputed Kashmir region killed 40 police officers.
The aggressive response stirred nationalist passions that pollsters said could favour Modi in the election. "I have voted for Modi's sound foreign policy and national security," said a 36-year-old first-time voter who declined to be named. "The de-monetisation has affected jobs growth, but over time the positive effects of GST and de-monetisation would take care of jobs," he said. Political analysts say statebased and caste-driven parties could be decisive in determining the make-up of the next government.
"Regional parties will play a bigger role compared to the previous 5 years or even 15 years," said K.C. Suri, a political science professor at the University of Hyderabad. "They will regain their importance in national politics."