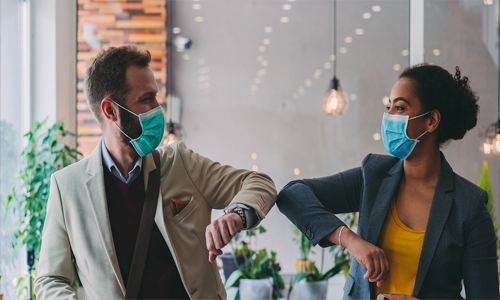 TDT | Manama
The Daily Tribune – www.newsofbahrain.com
It seems odd to discuss life after COVID-19 while infections and deaths are still accelerating in many parts of the world with a year into the pandemic.
Yet with a number of vaccines reportedly to be out in the market soon, the world is starting to comprehend a way to restore health, economies and societies, and genuinely get back to normal life.
Although the global health crisis seems to have been with us for a long time, the reality however is that the pandemic is still in its early days, if we were to believe the experts around the world.
It is likely to bring more changes in the months ahead unless a safe and effective vaccine becomes widely available.
So what are the scenarios beyond COVID-19? What will the "new normal" be like?
Even though many of us have been dreaming about the day that things go back to normal, re-entry into the real world might not be all smooth sailing. It might actually be a different life altogether when we get out of this pandemic.
Fundamentally, for the next year or even two, we will have to adjust to the "new normal" of our lifetime. We can expect to see lots of changes when we emerge into this life, from missing a favourite café that didn't survive the shutdown to greetings between friends that now consist of a nod, wave, and fist or elbow bump rather than an effusive hug, or handshake.
The desire to pick up old habits like a dinner party with friends and family might be tinged with concern about whether it is really wise to socialize in closely with others.
Getting from place to place will be different, too. Fear of public transit is likely to linger regardless of whether or not they can be made safer through a combination of mask-wearing and social distancing protocols.
Temperature checks and sensors will be routine in office buildings and airports. Smartphone apps will alert those who have come in contact with infected people and allow public health authorities to track their movements.
For those who have lost income or jobs, there are also practical concerns to grapple with finding work, meeting financial commitments, or negotiating with landlords and banks to manage rent, mortgages, and credit card payments.
Economic crisis, successful future, career, etc are among major concerns.
Financial pressure will be the front and center of several people's lives for the foreseeable future could have a significant impact on their mental health. Governments will continue to adopt preventive measures such as mask-wearing, physical distancing, working from home, and hand hygiene as part of daily life.
Mask wearing may be the most visible change rather than just a fashion statement, but more as a protection against the virus.
Children will wear them as they walk to schools in which the classrooms have been reconfigured for physical distancing.
Outdoor waiting lines will be ubiquitous, in front of grocery and especially office buildings, because they will have to wait to have their temperatures checked.
The bigger challenge is to make these new behaviours part of everyday habits.
One key lesson learned from this pandemic is that clear, caring, inclusive, and regular communication from authorities contributes to public trust in the government's response, which leads to improved understanding of individual responsibility and, subsequently, a greater willingness to adopt infection prevention practices as part of "the new normal". Recognizing that the virus will be with us for a little longer time, the government will have to use this opportunity to invest in health systems, which can benefit all populations beyond COVID-19.
These investments may include capitalizing on COVID-19 enhancements to surveillance, lab, and contact tracing with the use of more advanced information technology, and strengthening cooperation in the society.
When the crisis is over, embedding these measures and practices as part of our "new normal" can be a stepping-stone to a "new future" until a safe and effective vaccine becomes widely available.