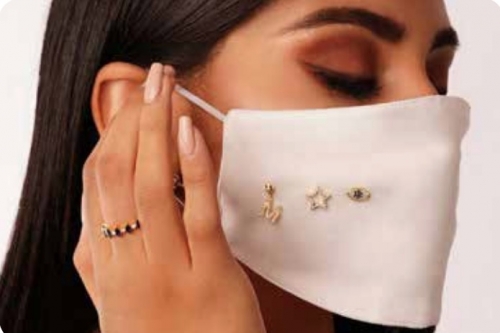 New 'outbreak fashion trend'
The Daily Tribune - newsofbahrain.com
As always, fashion has drawn inspiration from what's going on in the world, and this year is definitely no exception. Because of the coronavirus (COVID-19) outbreak, face masks have swiftly become an accidental trend — a growing fashion trend on the streets. In all shapes, sizes and styles, face coverings are the new must-have accessories – literally.
At first, wearing a medical, disposable mask that hide the mouth and nose was just a collective social responsibility or solidarity to help prevent the spread of infection. People wanted to protect themselves and, even more importantly, they wanted to protect others especially their loved ones. That feeling was stronger than the feeling of social embarrassment at wearing a mask. But now that people are a bit more used to it, wearing fashionable masks outdoors has turned into an entirely new form of self-expression to many. But unlike most fashion statements, face masks are born out of necessity to keep one another safe when in public.
Safety and Health
Since the beginning of the pandemic, face coverings in public are required by authorities not only for personal use but mainly to ensure the safety and health of others. Indeed, face masks have come a long way, and they're more fashionable than ever these days. Due to their growth in popularity, many have begun creating and innovating masks and infusing them with a little fashion personality as part of one's outfit.
In Bahrain, as the government increasingly requires face masks to stem the spread of the virus, fashionable face masks have become a trend. People have even begun styling their masks, from black, white, colorful to subtly unique ones.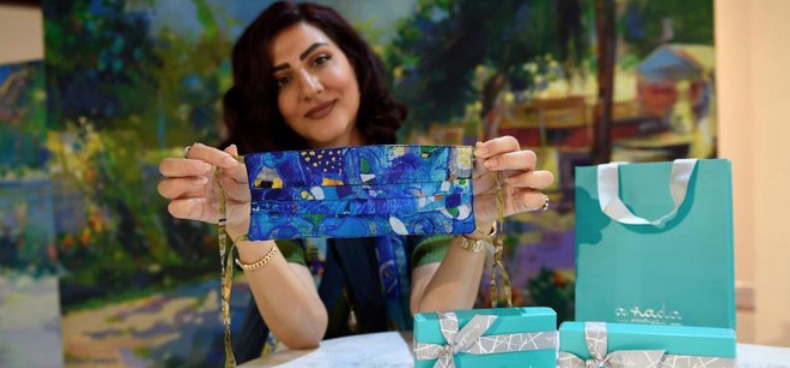 Profitable business
"Elaborate face masks" have become a profitable business. Many have become big sellers. "Many small and big businesses have taken the opportunity to make and sell personalised cloth face covers with a wide variety of styles and designs," an old British lady entrepreneur noted. "We're already seeing a lot of people not only wearing cloth face coverings but making a design or fashion statement with their choice of cover." Before the virus outbreak, the typical image which may come to mind when thinking about face masks is most likely the blue medical mask worn by doctors. Now, a face mask could be anything imaginable.
Shops, stores, and even ordinary people make non-medical, "washable" masks, especially made of clothes or fabric, and sell them for a living. Most of them are simply pieces of fabric with straps, decorated with flowers, puppy dogs, Wonder Woman, Star Wars, rainbows, and other designs, and ranging from BD1 to as high as BD5 per piece.
They make masks with different colours to choose from and made out of different customised styles, unique tones, texture, and, of course, numerous designs. They also add some humour to the new fashion accessory. Other customers order designs with their own faces printed on the reusable cotton or silk material, some with smiling faces, or big red lips.
Smiling and laughing
"When people see us wearing cool masks, they seem to be wondering why we are smiling and laughing," a Bahraini said with a smile. Nasser Iqbal, owner of a used items shop in Gudaibiya narrated: "Every time I wear brightly coloured masks, it puts a smile on everyone's face. So I thought, why not produce more and sell them to the public? I just feel like there is a need for stylish face masks." So Iqbal began producing protective yet personalised face masks.
The final product was a remarkable marriage of motifs featuring a variety of patterns, colours, and styles. Face masks, in all shapes, sizes, colours, and flamboyancy, have also conquered the internet with customers reaching out to online sellers to purchase more eye-catching face masks. "I think this is absolutely a fashion trend," said an Indian expatriate. One Filipino print shop owner named Julius is popular now in the community making and designing face masks with prints of horror, cartoon and movie characters.
"The cool designs just bring a little sunshine during one of the most difficult times we have seen in this lifetime. But let's not forget why we are wearing masks: for health and safety," Julius pointed out. Before the coronavirus, face masks were never a trending topic. Yet, through the changes and adaptations into this "new normal" way of life, we are all still absorbing, trendy face masks could be one of the main ways that this virus could subside.