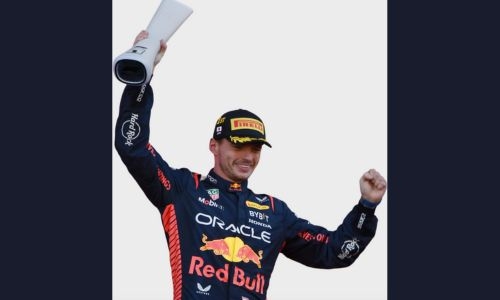 Verstappen closes in on title after Japanese Grand Prix romp
AFP | Washington
The Daily Tribune – www.newsofbahrain.com
Max Verstappen hailed his "predictable" Red Bull after taking a giant step towards a third straight title and helping his team clinch the constructors' championship by winning the Japanese Grand Prix yesterday.
The flying Dutchman finished ahead of McLaren pair Lando Norris and Oscar Piastri in Suzuka to extend his runaway lead in the overall standings to 177 points over nearest challenger and teammate Sergio Perez.
Verstappen can win the championship at the Qatar Grand Prix next month and he may not even have to wait until the Sunday race if he seals the deal in the Saturday sprint.
Verstappen's champagne is still on ice but he celebrated Red Bull's second straight constructors' championship in Japan, even though Perez retired from the race.
Verstappen has won 13 of 16 races so far this season and he said his car "is just better this year".
"The people are pretty much in the same spot and we know that they're good," he said. "It's about working with an even better car this year. A bit more predictable this year as well."
Verstappen was back to his breathtaking best after a disappointing fifth-place finish at last week's Singapore Grand Prix.
He held off a double challenge from McLaren to take the lead ahead of Norris at the first turn. First the Dutchman veered right to squeeze out Piastri, who was starting from second on the grid, then moved left to stop Norris from darting through the gap.
"I saw in the right mirror that Oscar had a little bit of a jump on me but at the same time I saw in my left mirror that Lando had a real jump on me," said Verstappen.
"Luckily nothing happened, it all got quite close -- that's racing, that's how it goes at the start." Verstappen said it was "quite a straightforward race" from then on, with the Dutchman finishing an impressive 19.387sec ahead of Norris.
"No real issues throughout the race, and I think that just sums up the weekend," said Verstappen, who finished fastest in qualifying and all three practices in Japan.