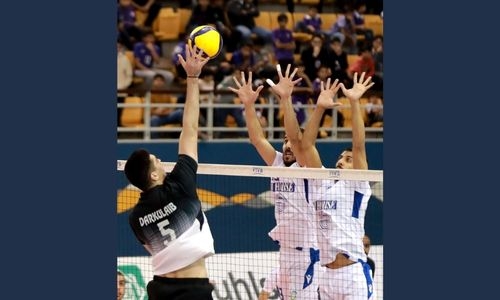 Dar Kulaib sweep past Al Nasser in volleyball league
TDT | Manama
The Daily Tribune – www.newsofbahrain.com
Dar Kulaib swept past Al Nasser 3-0 (25-17, 25-17, 25- 17) in their round-of-six contest of the 2022/2023 Isa bin Rashid Bahrain Volleyball League.
The game took place at Isa bin Rashid Arena at Isa Sports City in Riffa.
It was part of the second phase of the league's six-team playoffs, which is being played in double round-robin format.
The top four at the end of these fixtures move on to the league's semi-finals.
Argentinian professional Juan Barrera finished as Dar Kulaib's top scorer, posting 14 points in the contest.
Mohammed Yaqoob added 10 and Ayman Isa had nine points for the victors, while Mahmoud Abdulwahed contributed six points and Hasan Alaiwi had five.
Ali Habib also played a key role as their chief playmaker.
Meanwhile, for Nasser, Ebrahim Mohammed was their leading performer with 10 points, while Yousif Ali chipped in with seven.
With the result, Dar Kulaib improved to a 6-2 win-loss record to tie with Al Ahli on the standings.
They are ranked just behind table-toppers Al Najma, who boast a 7-1 mark.
Nasser suffered their sixth loss in eight games, and continue to be ranked behind Muharraq (3- 5) and in front of winless Nabih Saleh (0-8).