Ava Go Joe makes triumphant ride at Rashid Equestrian and Horseracing Club
TDT | Manama
The Daily Tribune – www.newsofbahrain.com
Ava Go Joe won the Royal Golf Club-sponsored race yesterday as part of an eight-race card at Rashid Equestrian and Horseracing Club (REHC) in Sakhir.
Attending yesterday's events were Supreme Council for Youth and Sports first deputy chairman, General Sports Authority president and Bahrain Olympic Committee chief His Highness Shaikh Khalid bin Hamad Al Khalifa, REHC High Committee chairman His Highness Shaikh Isa bin Salman bin Hamad Al Khalifa, and other high-ranking officials.
Anas Al Siyabi saddled the Ramadhan Stable-owned, Jaber Ramadhan-trained Ava Go Joe to first place in 59.131 seconds in the five-furlong event, to come away with the lion's share of the BD3,000 total prize.
Finishing behind the five-year-old gelding was Turna in second for Zainab Adel Abduljalil, Taleb Ali and Abdulla Faisal; while Follow Suit came third for Al Remah Stable, Abdulla Kuwaiti and Hussain Asghar.
Meanwhile, Massaman won the final event on the day, with the triumvirate of Ramadhan Stable, Jaber Ramadhan and Anas Al Siyabi completing an impressive double.
Massaman triumphed in the 11-furlong event carrying a BD3,000 prize in two minutes 20.746 seconds.
Tall Order was the runner-up for Al Mallah Syndicate, Abduljaleel Al Mallah and Ebrahim Nader; while Arctic Emperor came third for Al Mohamediya Racing, Hesham Al Haddad and Neil Callan.
Callan was able to claim the win in two races yesterday, saddling Tartan Chief and Deccan Warrior.
Tartan Chief won the seventh race, held over 14 furlongs with a BD3,000 prize.
The four-year-old colt finished in 3:04.123 for Al Mohamediya Racing and Ali Abdulmajeed.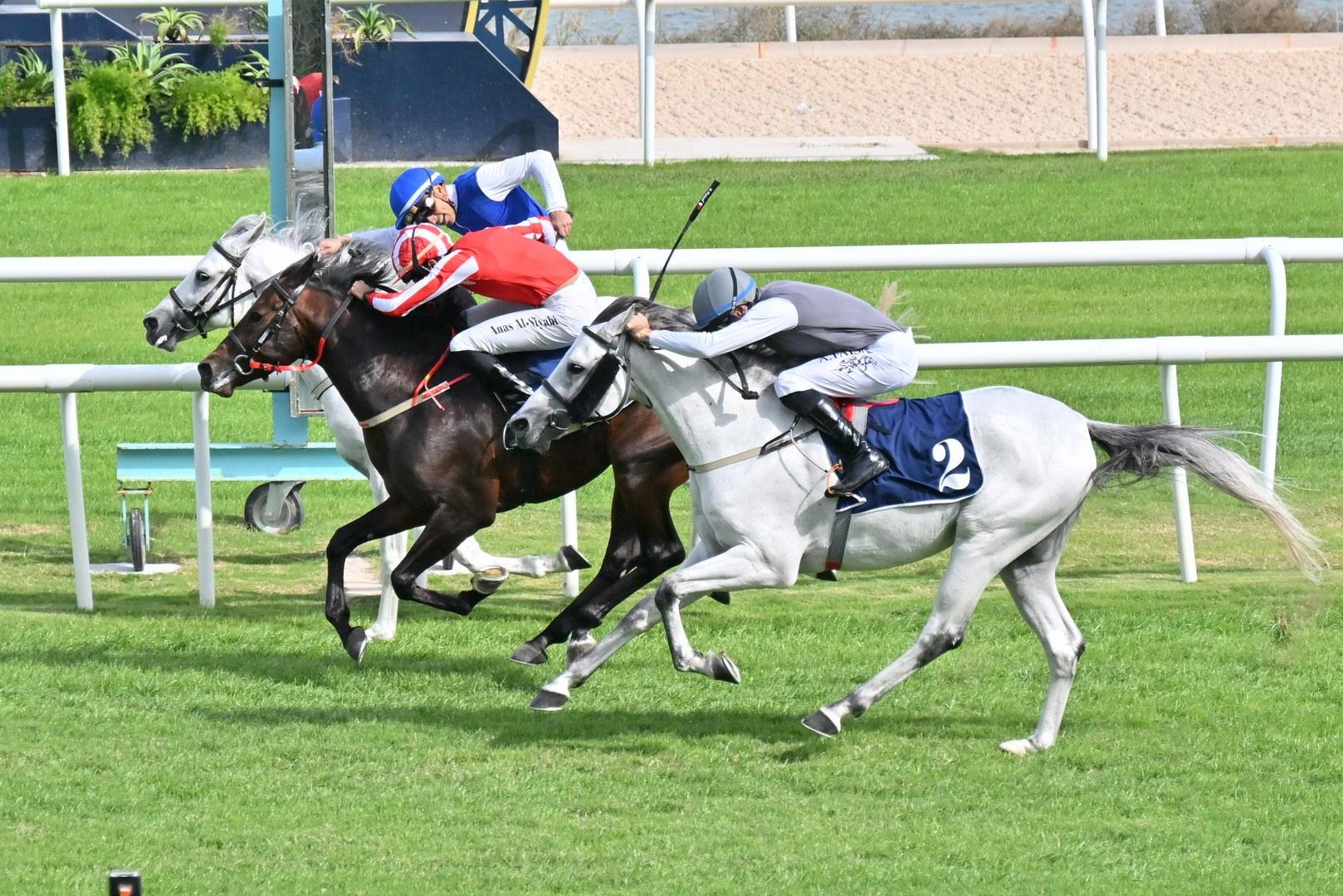 Port Douglas was the runner-up for Ali Jaafar Darwish, Abdulla Haji and Marcialis Jaures; while Purgatory came third for Naser Ali Naser Almoamen, Ali Nasser and Stephane Ladjadj.
Callan then won with Deccan Warrior in the day's second race, held over seven furlongs with a BD2,000 prize.
The three-year-old gelding took first place in 1:24.969 for Al Mohamediya Racing and Reyadh Ahmed; with Rez as the runner-up for Al Khaldiya, Hussain Aldailami and Anas Al Siyabi; and Dukono in third for Al Mohamediya, Abbas Al Mawali and Hussain Asghar.
Another double winner yesterday was jockey Ebrahim Nader with Hamiya and Musannan 1811.
Hamiya took the victory in the five-furlong fourth race, carrying a BD2,000 prize, in 1:01.832 for NNK Racing and Samir Dawood.
Batmobile followed for Victorious, AM Smith and Ali Sabri; while Hayel was third for Al Nuwayef Racing, Abdulla Kuwaiti and Andrew Elliott. Musannan 1811 was the winner in the day's first race for the WAHO Cup.
Nader steered the five-year-old to a finish in 1:38.661 over a seven-furlong distance to claim the top prize from the BD1,500 purse.
Musannan 1811 won for Al Wasmiya and Abdulla Kuwaiti. Al Hamdany 1810 was second for Victorious, Yousif Taher and Anas Al Siyabi; while Al Saqlawy 1807 came third for Al Riffa, Yousif Alboainain and Abdulla Faisal.
Elsewhere yesterday, Jadlah won the 10-furlong sixth race for Rayan & Kayan Racing, Basem Mahdi and Marcialis Jaures; while Echo Through Time triumphed in the seven-furlong race three for Al Adiyat Racing, AM Smith and Edinson Rodriguez.