Bahrain wrap up best handball worlds
TDT | Manama
The Daily Tribune – www.newsofbahrain.com
Bahrain wrapped up their campaign in the 28th International Handball Federation (IHF) Men's Handball World Championship last night with a 32-43 loss to European giants Croatia, but still managed their best-ever final classification in the biennial global competition.
The nationals are ranked 16th overall amongst the 32 competing nations—their highest placing in their five appearances at the handball worlds.
The Bahrainis were previously 23rd in 2011 and 2017, 20th in 2019 and 21st in 2021. In addition, Bahrain finish as the top-ranked Asian side in this year's world championship.
Qatar are 22nd, Iran 24th, while South Korea and Saudi Arabia are to be ranked between 25th and 32nd overall.
It is another fantastic achievement for the Kingdom's senior men's national handball team in the IHF tournament.
They had earlier qualified for the main round for only the second time in the worlds, and then also won a match in that stage for the first time—a 32-27 victory against the US.
Last night's defeat to Croatia gave the Bahrainis a final winloss record of 2-3 on the Group IV table.
They are ranked behind Egypt, defending world champions Denmark and the Croatians, but are above the US and Belgium.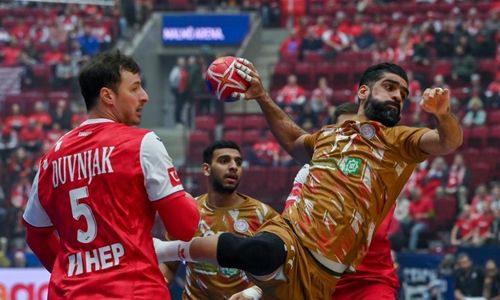 In their match yesterday, the nationals had a strong first half when they led on multiple occasions before the Croatians took control right before the interval.
Back-to-back Igor Karacic goals gave them a 17-14 advantage, but then conversions from Hussain Al Sayyad and Mohammed Habib Mohammed brought Bahrain back to within 16-17 at the break.
In the concluding 30-minute period, the Bahrainis struggled to match their rivals, who built a double-digit lead with under 10 minutes remaining en route to securing the comfortable winning margin.
Qassim Qambar had seven goals to pace Bahrain while Al Sayyad and Mohammed each contributed six. Komail Mahfoodh and Ali Mirza scored four apiece, while Ali Eid had two.
Also finding the net once in the game were Ahmed Fadhul, Mohammed Mirza and Mahmood Mohammed.
Croatia enjoyed a high-scoring attack, with Ivan Martinovic and Filip Glavas each registering 11 goals in the win.