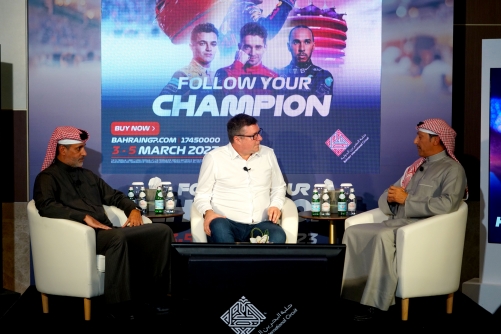 Bahrain International Circuit set for extraordinary F1 weekend
TDT | Manama
The Daily Tribune – www.newsofbahrain.com
Bahrain International Circuit (BIC), "The Home of Motorsport in the Middle East", officially launched yesterday F1 2023, with the latest news and exciting plans for the Formula 1 Gulf Air Bahrain Grand Prix 2023, including record ticket sales from BIC's Early Bird offers, a race campaign celebrating F1's star drivers, and the first superstar artist who will be a part of the spectacular off-track entertainment programme.
The details were revealed in a Press conference launch hosted by legendary Sky F1 commentator and TV personality David Croft and attended by BIC Chief Executive Shaikh Salman bin Isa Al Khalifa and Gulf Air Chief Executive Officer Captain Waleed Al Alawi, held at Jumeirah Gulf of Bahrain Resort and Spa in Sakhir.
This year's F1 Gulf Air Bahrain Grand Prix is set to take place 3 to 5 March as the opening round of the 2023 FIA F1 World Championship. Shaikh Salman commented: "F1 is enjoying a level of popularity around the world that we have never seen before, and that is no different here in the Kingdom of Bahrain and the wider Middle East.
With that comes a responsibility for BIC and the Kingdom of Bahrain to make the F1 experience bigger and better than ever. "Today we are showcasing some of the amazing experiences we will offer to fans as we aim to deliver an incredible spectacle of sports and entertainment."
Also at the press conference, Gulf Air Chief Executive Officer Captain Waleed Al Alawi spoke of the renewed commitment of the National Carrier of Bahrain to F1 and the benefits it brings in supporting tourism to Bahrain: Captain Al Alawi added: "The F1 Gulf Air Bahrain Grand Prix is one of the strongest tools to propel Bahrain onto the international stage.
This race has become a favorite among motorsport fans around the world, and Gulf Air is proud to bring in visitors to the Kingdom of Bahrain to attend the race and enjoy the array of attractions and tourist activities on offer alongside it.
"We look forward to performing our annual flypast over the race, and to all the excitement and thrill that comes with it."
'Follow Your Champion'
Shaikh Salman revealed the Gulf Air Bahrain Grand Prix's slogan for 2023: "Follow Your Champion"— a celebration of the fact that every F1 driver on the grid is a true champion.
"Drivers have always been at the heart of the sport," said Shaikh Salman. "We've talked about the success of Drive to Survive and F1's and the teams' efforts to make more of the personalities so fans now have much more of a connection with the drivers.
"Our campaign aims to celebrate each and every one of them who have incredible talent and determination to succeed, and at the same time, encouraging fans to 'Choose their Champion' who will they be backing to excel at the all-important first race of the season."
Record attendance
Last year's Gulf Air Bahrain Grand Prix was a history-making occasion, bringing record crowds like never seen before to the circuit, including 35,000 fans for race day—the highest-ever attendance for the Bahrain Grand Prix (2019: 34,000)—and a total of 98,000 for the entire F1 weekend (2019: 97,000). Shaikh Salman said that BIC is hoping to surpass those numbers this year.
"With our international fans doubled compared to 2019, we are keen to continue that momentum at this year's race. "BIC is working extremely hard with our partners at the Bahrain Tourism and Exhibitions Authority and Gulf Air to attract more F1 lovers from all corners of the globe to come to our grand prix."
Early Bird ticket sales doubled
Signs have been pointing towards an even bigger crowd at this year's Gulf Air Bahrain Grand Prix. Shaikh Salman announced that BIC has enjoyed record ticket sales from its Early Bird offers, which ran for several weeks in late 2022.
Tickets continue to be available at BIC's website at bahraingp. com and fans are advised to act quickly so as not to miss out on the region's biggest sporting and entertainment spectacle of the year.
"Whilst we never get complacent over ticket sales, our Early Bird offers which ended just last week have been really strong. In fact, our sales are more than double our previous best Early Bird numbers, so we are really pleased with that start," Shaikh Salman said.
"The aim is to sell out and so we are therefore urging fans that they could well be disappointed if they don't buy soon." Shaikh Salman noted that BIC's Corporate Boxes have already sold out, which is a reflection of the huge growth in the hospitality element for the F1 weekend.
DJ Snake set for Friday night concert at F1 weekend
BIC is proud to host one of the best off-track experiences at any grand prix held around the world, and the circuit has once again put together a varied and exciting entertainment programme, to be enjoyed by the whole family.
BIC is proud to announce that Grammy-nominated artist, DJ Snake, will be performing on the Friday night of the Gulf Air Bahrain Grand Prix on 3 March. "In addition to our concerts, we are always keen to ensure we have a full family friendly programme for the race weekend—the family element is always so important to us," Shaikd Salman said.
"Some of the highlights of our family entertainment includes our iconic Ferris Wheel, which has become a staple of the Grand Prix weekend and a fan-favourite, offering stunning views of the circuit and the surrounding Sakhir area; a wide array of roaming acts and all kinds of performers from around the world, including stilt walkers, carnival shows, dancers, roaming bands and drummers, kids' games, circus performers and much more."
All these can be enjoyed at BIC on all three days of the F1 weekend at no extra cost.
F1 Village, Pre-Season Testing
While the Gulf Air Bahrain Grand Prix is slated for 3 to 5 March, the F1 celebration can be enjoyed weeks before the race weekend. BIC is set to bring back the Beyon Money F1 Village for two weeks leading up to the race.
The fan festival which was launched last year with BIC's partners at Beyon, will be coming back to Block 338, with an amazing fortnight of entertainment, bands, F1 activations and activities, plus so much more. Also, F1 Pre-Season Testing will be held the week prior to the race from 23 to 25 February, featuring all 10 F1 teams and all the sport's superstar drivers.
Formula 2 and Formula 3 testing, which has nogaholding as its title partner, will also take place at BIC on 14 to 16 February. More details on the Beyon Money F1 Village and the F1 Pre-Season Testing will be announced soon. For more details visit bahraingp.com or call +973-17450000.