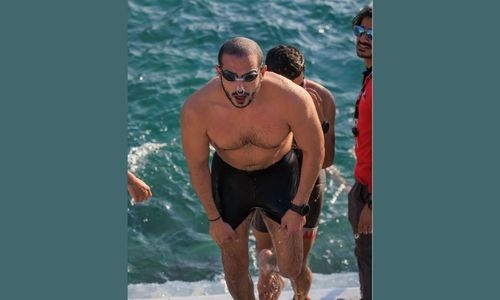 Demo race features wide participation ahead of IRONMAN 70.3
TDT | Manama
The Daily Tribune – www.newsofbahrain.com
The Organising Committee of the 2022 IRONMAN 70.3 Middle East Championship Bahrain has organised a demo swimming race ahead of the main event which will take place on December 7-9, 2022.
His Highness Shaikh Khalid bin Hamad Al Khalifa, First Deputy Chairman of the Supreme Council for Youth and Sports, President of the General Sports Authority and President of the Bahrain Olympic Committee, participated in the trial race.
HH Shaikh Khalid bin Hamad expressed pride in taking part in the swimming trials, affirming that the IRONMAN 70.3 Middle East Championship Bahrain consolidates the tremendous efforts exerted by HH Shaikh Nasser bin Hamad Al Khalifa, to implement His Majesty King Hamad bin Isa Al Khalifa's directives to make Bahrain a favourable destination for mega sports events.
The event is set to resume following a two-year hiatus due to the COVID-19 outbreak.
Held purposely to examine the readiness of the facilities that will embrace the event, the demo race featured wide participation from competitors living in Bahrain and abroad. The race was deemed a success.
"The success of this race proves that we are on the right track to organise the 2022 IRONMAN 70.3 Middle East Championship.
We are tirelessly working in order to ensure that the event will live up to expectations as per the kind instructions of HH Shaikh Nasser bin Hamad Al Khalifa, Representative of HM the King for Humanitarian Works and Youth Affairs.
We have in place a comprehensive plan in order to add a new chapter to the successes achieved in the previous editions," Ahmed Al Hajj, the Manager of the Championship said.
He added: "We are precisely following this plan. We had developed a full view for the demo race, and we are happy to see it exceeding our expectations.
"As the main event is imminent, we will double our efforts next week to be fully ready for it," It's worth noting that the race will include supporting activities, including an expo and an area for food trucks as well as zones for kids' games.