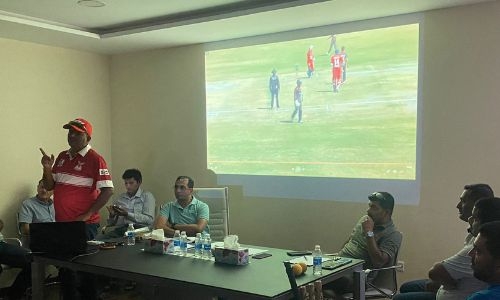 BCF Operations committee meets umpires for ICC updates
TDT | Manama
The Daily Tribune – www.newsofbahrain.com
Bahrain Cricket Federation's new operations team arranged a meeting with the Umpires on Wednesday. This was the first meeting arranged after the new committee took over under the leadership of Hatim Dadabai as President and Chairman Advisory Committee - Mohammed Mansoor.
There were more than 60 participants, of different nationalities along with qualified Bahraini Umpires meeting the International Cricket Council approvals. Naushad Hidayatullah (Director - Operations), Adil Ahmed (Manager - Infrastructure), Mohammed Shakeel (Manager - Scoring / Statistics), Nabeel Ahmed (Manager - Tournament and Fixtures) and Tawfiq A. Kadar (Manager - Public Relations) were also present Prachur Shukla (Director-ICC ACC and Cricket Education BCF), lead the Orientation presentation with recent updates on the ICC umpiring criteria's, specifying the rules / judging criteria with Live Demo's, video scenarios, and preparation for the upcoming schedules for ICC official qualification exams.
A question-and-answer session was held with the Senior Umpires Mirza, Younis, Asim and Arfan Ghani along with live scenarios on what would be the possible outcome of decision if batsman / bowler / fielder does a certain action whether fair / unfair play and what penalty would be applicable in such case. Shukla also informed that no illegal bowling actions will be allowed in Division A and B. ICC protocol will be followed for action correction.
The BCF board aims a reformed system giving best climate of cordiality, display great professionalism and instant active services to the players, team, and cricketing fraternity bringing out the best competitive game and popularizing the sport in the Kingdom of Bahrain. For any interested candidate to register as cricket umpire with BCF may contact us on league@cricketbh.com with your credentials.