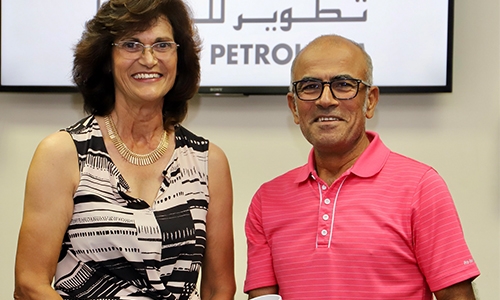 Fakhroo emerges overall winner in Tatweer golf event
TDT | Manama
The Daily Tribune – www.newsofbahrain.com
Abdul Elah Fakrhoo emerged as the overall winner in the Tatweer Petroleum Medal competition at Awali Golf Club. Fakhroo played a 77 gross and 63 net to clinch first place.
Aside from the overall top two finishers, there were also prizes for the first two in each of the three divisions, as well as for the best lady and the medal.
Finishing as overall runner-up with a gross 80 and 66 net was Vidhu Mittal.
The Best Lady award was claimed by Susan Scott with a gross 93 and net 72.
Meanwhile, the winner in division one was Saad Ali Al Binkhalil with a 71 gross and net 68, but a better back nine than runner-up Abdulrahman Abdulwahed Al-Shaikh, who had the same scores.
In division two, the top two places were heavily fought. Nick Davis eventually claimed first place with a 67, nearly breaking 80.
In second was Ateeq Yacoob Mujali on a gross 78 and net 67.
In division three, Zuzar Madarwala won with a gross 88 and net 66, while Roger James was the runner-up on a gross 87 and net 69.
Finally, the medal was won by Hamad Fares Al Qutamiw, who finished as the only player scoring under par.
He played one bogey, two birdies and 15 pars in the event.
A total of 89 golfers took part in the competition, which was held in favourable conditions.