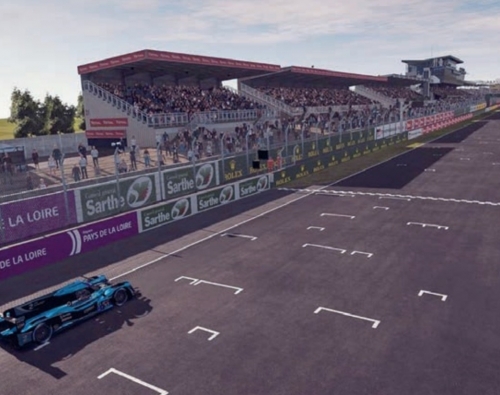 TDT | Manama
Bahraini-English motor racing giants 2 Seas Motorsport put in an outstanding performance in the 24 Hours of Le Mans Virtual 2020, taking an impressive fourth and narrowly missing out on a podium in the highly anticipated electronic race, which came to an exciting conclusion yesterday.
Team members HH Shaikh Isa bin Abdulla Al Khalifa, British Formula E driver Oliver Rowland, and Esports racers Rory Macduff and Devin Braune steered their no. 33 Oreca 07 LMP car to a total of 370 laps— just a single lap behind the top three. The no. 1 car of Rebellion Williams Esport shared by Louis Deletraz, Raffaele Marciello, Nikodem Wisniewski and Kuba Brzezinski took the victory.
They were followed by runners-up Bykolles-Burst Esport of Jernej Simoncic, Tom Dillmann, Esteban Guerrieri and Jesper Pedersen, who were 17.781 seconds behind. The no. 13 Rebellion Williams car featuring Jack Aitken, Agustin Canapino, Marc Gassner and Michael Romanidis clinched the final podium step after completing the race 22.984s back. Each of the leading trio had registered 371 total laps.
The Le Mans Virtual 2020 was organised by the Automobile Club de l'Ouest (ACO), the FIA World Endurance Championship and Motorsport Games. It brought together 200 of the world's best professional drivers and sim racers from 37 different countries to race on 170 different simulators in 50 cars. Bykolles-Burst were the pole-sitters with 2 Seas starting the race from the second row in third.
At the end of the first three hours, 2 Seas stayed third with sim racer Braune at the wheel, but at the six-hour mark, they had powered to the lead with Macduff taking charge heading into the seventh hour. The Bahraini outfit were just over a second ahead of the no. 20 car of Team Redline, with Formula 1 drivers Max Verstappen and Lando Norris among those sharing driving duties.
By the midway point of the event, 2 Seas had dropped to seventh with the no. 1 Rebellion Williams in the lead, but after 18 hours, 2 Seas were able to fight all the way back to fourth. With the final two hours to go, however, 2 Seas were back in seventh place, but Braune was able to bring them back in the last 60 minutes for an impressive finish of fourth place overall on the final classification.
Meanwhile, the no. 93 car of Porsche Esports Team featuring Nick Tandy, Ayhancan Guven, Joshua Rogers and Tommy Ostgaard were the winners in the race's GTE class with 339 laps. They finished one lap ahead of the no. 95 Aston Martin Racing car of Nicki Thim, Richard Westbrook, Lasse Sorensen and Manuel Biancolilla; while completing the GTE podium two laps back were Daniel Juncadella, Matthias Beche, Erhan Jajovski and Risto Kappet in the no. 80 R8G Esports Team car.