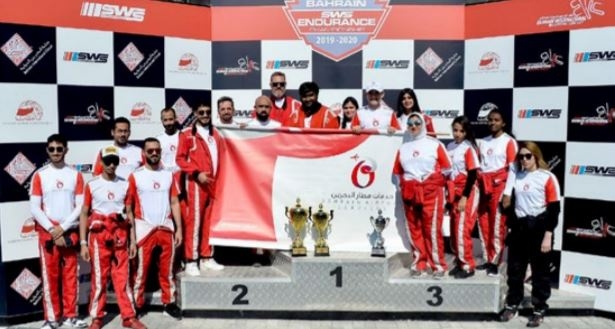 BAS Teams take double podium in 12-hour race
Bahrain Airport Services (BAS) Motor Sport Team had twice the reason to celebrate over the weekend after claiming a pair of podium places in the gruelling 12-hour third round of the 2019/2020 Bahrain Karting Enduro Championship (BKEC).
The event was held at Bahrain International Karting Circuit (BIKC) in Sakhir and BAS fielded four squads made up mostly of BAS staff members.
The BAS B and C teams were both able to secure a place on the Corporate class podium, having finished the race in second and third place, respectively.
The A team narrowly missed out on the Pro class podium, while stealing the show once again were the BAS F team, composed completely of lady drivers, who illustrated once again that they can hold their own in top-level karting races.
Following the race, BAS Motor Sport Team Manager Tony Smith expressed his delight with his whole team's performance. "We would like to thank our CEO, Mr Salman Al Mahmeed, for supporting the BAS Motor Sport Team in these events and allowing our staff to make BAS proud of their achievements," he said.
"Our teams did fantastically well throughout this very challenging 12-hour endurance race, as the majority of them had never been through such a gruelling challenge. It makes us extremely proud of all of the squad."
The BAS B and C teams excelled in the race's Corporate category. The three-member B squad, comprised of Mahmood Saati, Yusuf Yaqoob and Ziyad Khalifa, completed 543 laps over 12 hours to finish as runners-up in class; while the six-driver C team were third. They consisted of Saud Alshater, Philip Morais, Don Vinura, Ammar Alghawas, Mohammed Fadhel and Hussain Habib, and they registered a total of 537 laps, which was not far behind the category's winners who finished with 553 laps.
"We are fortunate to be on the podium," said Saati. "It was double the challenge this time, but fortunately, with the support of the company, our CEO, our team manager and everybody around us, we were able to make it a success today.
"We are pleased with our lap times; they reflect the hard work we put in in practice. But we still have a lot of room for improvement, and hopefully we can continue getting quicker as we train and prepare for the 24- hour final round next month."
Fellow-B team driver Yaqoob was thrilled to be competing with the team for the first time this BKEC season. "I'm a new joiner, but I really love motorsport and I love to race," he said. "I go karting for fun but I take my times seriously.
"I'm really happy I joined and fortunately made it onto Team B. It was a really fun experience, although very tiring, but the team work we had made it all worth it."
Team C's Vinura described the race to be like "a family challenge". "Everyone knows each other and everyone is very supportive of one another, so it's like a family challenge," he said.
"This was a really big achievement but I can't imagine what the 24-hour race is like. I'm happy for the team and with what we were able to accomplish today."
The BAS A team was spearheaded by young BAS Ambassador Lewis Smith, who shared the driving duties with Gavin Halls and Ahmed Abduljalil. They were sixth overall and fourth in the Pro category – a mere two laps behind the overall and Pro winners with a total of 555 laps over 12 hours.
The A squad had to deal with multiple penalties in the race, which ultimately affected their final classification as they missed out on the Pro class podium by just four seconds.