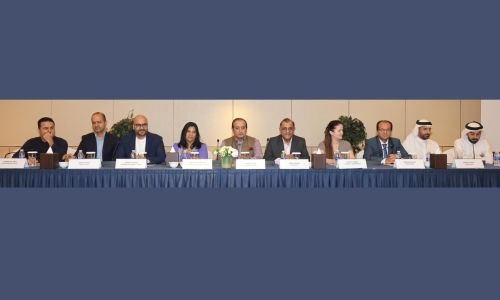 EO Bahrain welcomes entrepreneurs to achieve full potential
TDT | Manama
The Daily Tribune – www.newsofbahrain.com
The Entrepreneurs' Organization (EO) Bahrain, a global network of more than 18,000 influential business owners, welcomed entrepreneurs from Bahrain to achieve their full potential through life-enhancing connections that lead to infinite possibilities.
EO Bahrain has 44 members, with a median sales of $2.11 million and 3,672 employees.
At a press conference held at the Gulf Hotel yesterday with the participation of board members of EO Bahrain, Bob Thakar, President of EO Bahrain, said that EO is well-connected to other organisations and societies and that its members are actively involved in the business community.
"We have four or five members who are involved in the Chamber of Commerce committees. We have members who are in other societies as well.
So, yes, we are well-connected, and we can really be sharing knowledge and information," he said.
Ahmed Shah, Learning Chair of EO Bahrain, highlighted the importance of learning within the organisation.
He said, "Every year we combine our calendar after June to see how many learning units we can have.
This year, we have almost 18 learning units." EO Bahrain offers a variety of events and programmes to help entrepreneurs learn and grow, including keynote speakers, momentum speakers, wow events, workshops, ITP events, and EO Talks.
Osama Al Said, Acceleration Chair of EO Bahrain, highlighted the success of the organisation's acceleration programs.
"Last time, 11 members of the exclusive programmes graduated, which is 46%—that's higher than the global percentage, which is 16%," he said.
EO Bahrain is committed to helping entrepreneurs achieve their full potential and contribute to the growth of the Bahraini economy.
The organisation provides its members with the resources, support, and connections they need to succeed.