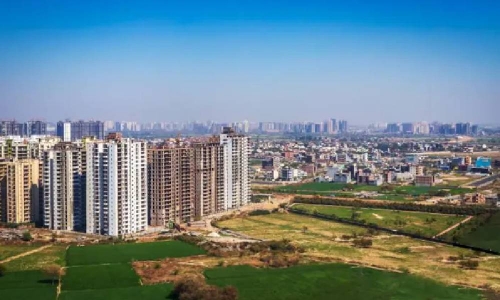 Indian real estate market becomes hot favourite amongst GCC based NRIs
TDT | Manama
The Daily Tribune – www.newsofbahrain.com
Indian real estate industry has seen a significant rise in enquiries from GCC based NRI investors in the last quarter. NRIs especially from the GCC countries are looking to invest in both residential and commercial properties across various price brackets.
The trend has witnessed a significant uptick post COVID19. As per a report by 360 Realtors, in 2021, NRIs from across the globe have invested $13.1 billion and this is likely to grow by 12 per cent to touch $14.9 billion in 2022.
Aakash Ohri, Group Executive Director and Chief Business Officer, DLF Ltd shared "Indian real estate has always been a market of enormous opportunities for NRI investors from GCC countries.
Residential real estate offers the NRI community a unique advantage of converting their hard-earned foreign income into lucrative investment options in India. In the past two years, we've witnessed a rise in the number of NRIs looking to own a home back in India and the pent-up demand has begun to come to the fore.
With the appreciation in the property prices, they have historically received and will continue to expect a handsome return on their investment. Due to a strong emotional bond, many Indians living in GCC countries are investing in their homeland as an option to come back and settle down in the future, but most of them are also buying homes purely as an investment option.
Factors like a simplified taxation regime and indexation benefit for properties held in India encourage NRI buyers to park their surplus money in India." As per reports, out of the total 13.46 million NRIs globally, more than half are concentrated in the Gulf countries with UAE, Saudi Arabia, and Kuwait accounting for around 3.42 million, 2.6 million, and 1.03 million Indians respectively.
While Qatar and Oman are home to 7,45,775 and 7,79,351 Indians. "With pandemic-induced fluctuations in India, real estate seems to be thriving, and as a result, investors and buyers from India and around the globe have shown tremendous interest.
Not only the GCC investors, but Indian investors, especially NRIs, are also proactive in sealing property deals in Dubai. GCC NRIs consider India as their second home, there is also increased transparency in the purchasing procedure and depreciation in the Indian rupee are some of the factors that have lured the category towards the Indian real estate market."
Shashank Vashishtha, Executive Director, eXp India The Indian property market has witnessed an impressive growth in demand for ready-to-move-in units across all real-estate segments, including luxury, affordable and mid-segment housing.
As per the latest Anarock research, the first quarter of 2022 saw housing sales of at least 99,550 units across the top seven cities, of which the share of NRI purchases was up to 15 percent. Additionally, today the demand of the NRI community is not limited to luxury properties only, but cuts across segment starting from premium to luxury and super-luxury properties, especially for cities in Southern states of India, followed by Delhi, Mumbai and Gurgaon.
The buyers are not just looking for a great property, but also a reliable brand name. Credible developers with a proven legacy to deliver on commitments have a strong advantage in today's marketplace.