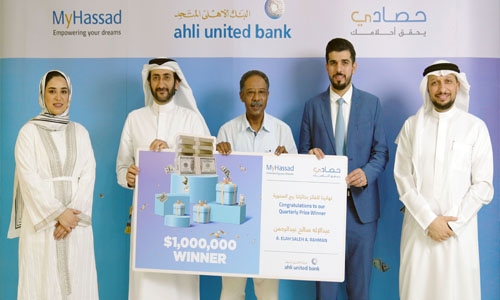 Ahli United Bank names first of their four millionaires in 2021
TDT | Manama
The Daily Tribune – www.newsofbahrain.com
Ahli United Bank Bahrain has announced the winner of its first US$1 million prizes for the year 2021. The prize – part of the newly enhanced scheme – was seized by A.Elah Saleh A.Rahman. A.Rahman, a retired senior accountant with a 32-year-long relationship with AUB, said, "Never in my life did I dream of becoming a millionaire.
This pleasant surprise will remarkably change my life, as I now plan to move to a new home.
I appreciate the way the bank passed the great news to me. When I was informed of the big win, all I had been expecting was a Gergaoun celebration." "It is a great joy to bring more of our MyHassad loyal customers to the millionaire club. It is an objective we set out to achieve this year, and this is only the first testimony to it. In fact, MyHassad's latest reiteration brings more high-value prizes and does so throughout the entire calendar," said Suvrat Saigal, Deputy Group Chief Executive Officer – Retail Banking.
He added: "We've also brought the Kingdom's largest and longest-running savings scheme ever closer to prospective clients, as they can now open new accounts digitally anytime, anywhere through the enhanced digital banking application launched earlier in the year." MyHassad started the year with a great deal of anticipation, given the higher number, frequency, and size of the new prizes.
Along with four grand prizes of US$1 million each, the bank is also giving away four quarterly prizes worth US$100,000, together with 50 monthly prizes worth US$1,000 each.