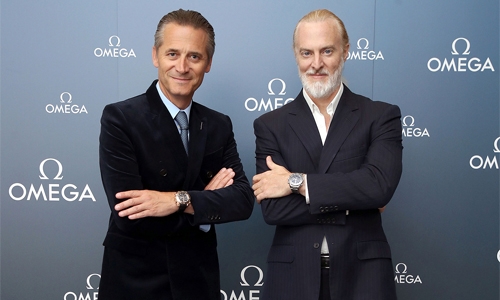 World record dive for OMEGA Planet Ocean
At the British Museum in London, OMEGA has revealed the watch that made the world's deepest dive - and the groundbreaking technology behind its success. When Victor Vescovo successfully piloted his deep submergence vehicle DSV Limiting Factor to the bottom of the Mariana Trench earlier this year, the 10,928m dive set a new world record. Accompanying the re - cord-breaking ride was OMEGA's Seamaster Planet Ocean Ultra Deep Professional.
Three of them in fact: two on the submersible's robotic arm and another on a data-gathering unit dubbed a Lander. All three surfaced completely unscathed. Commenting on their performance under extreme pressure, President and CEO of OMEGA Raynald Aeschlimann described the Ultra Deep watches as, "Extraordinary pieces of technology that represent OMEGA watchmaking at its most inventive." Joining the unveiling in London was adventurer Victor Vescovo, who praised OMEGA's project team for their "ability to create a full ocean timepiece that's not only super tough but slim, light and stylish."
OMEGA is a company of the Swatch Group, the largest manufacturer and distributor of watches and jewellery in the world. Producing a professional divers' watch is all in a day's work for the Swiss brand, but to create a timepiece suitable for The Five Deeps Expedition required an entirely different level of ingenuity and a team of experts with diverse engineering skills. OMEGA's Seamaster Planet Ocean Ultra Deep Professional certainly takes dive watch technology to a new level.
Designed to withstand enormous pressures, the Ultra Deep is packed with full ocean depth technology - yet is surprisingly slim at less than 28mm. The body of the bezel, casebody, caseback and crown were machined cutoffs from Limiting Factor's (DNV-GL certified) forged grade 5 titanium hull, and Liquidmetal® used to ensure a firm yet flexible sapphire-to-casebody assembly: an innovative hot bonding process that made it possible to reduce the sapphire's thickness.
Though OMEGA's goal was to create a watch for a very specific – and extreme – purpose, the Swiss brand made sure to use materials and technology that could be commercialised. Bold adventurers can be confident that OMEGA's record-breaking Ultra Deep technology is destined to surface again in the very near future.