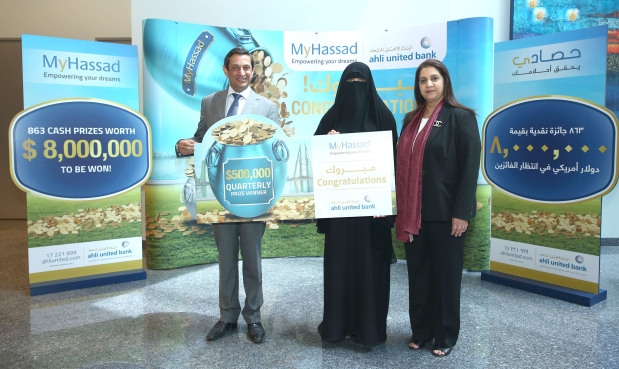 Rabab Mansour gets AUB MyHassad grand prize
Ahli United Bank (AUB) has announced Rabab Mansour, a Bahraini housewife, as the winner of its MyHassad Grand Prize of US$ 500K. "I never expected to be one of those lucky winners in the draws as I've been an AUB client since long years and held those certificate since 2011," said Rabab.
"My feeling that luck would definitely follow me one day. "When I was contacted to inform about the award, I couldn't believe myself. "I am planning to buy a house for my family," Rabab said. "It has always been a dream for me." Rabab also won one of the monthly prizes of BD1, 000 last year.
Since its inception, MyHassad has offered cash prizes exceeding BD67 million for more than 16 thousand winners from its customers. "MyHassad", AUB said, is being launched again this year with a series of prizes totaling more than US$ 8 million. This is in addition to the "MyHassad Millionaire" award, which will award one million US dollars to one winner