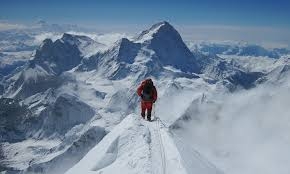 It's easier to climb Mount Everest... read on to know why
Mount Everest's Hillary Step -- a rocky outcrop just below the summit -- is now a slope, say climbers who recently returned from the mountain. The condition of the rock face named after Everest's first summiteer Edmund Hillary has been the subject of intense speculation since climbers last year declared it had gone. Others disagreed saying fresh snowfall had caused the confusion. Mountaineers returning from the summit this month have unanimously said that, what was once a near-vertical 12 metre (40 feet) rock face is now a gradual snowy slope and makes the final ascent quicker and easier.
The step formed part of a narrow, exposed ridge connecting Everest's south summit (8,749 metres) with the true summit (8,848 metres). Hillary and Tenzing Norgay scrambled up the sheer step in 1953 when they became the first climbers to conquer Everest. Since that first successful summit, all climbers summiting Everest via the southern route have used ropes to pull themselves up the formidable obstacle, before swinging one leg over a "saddle" at the top. But straddling the top boulder and shuffling along the precipice is no longer necessary.
Climbers say the disappearance of the step has left little more than an undulating ridge to the summit. Climbers began speculating in 2016 that a powerful earthquake in Nepal the year before could have radically altered the step.