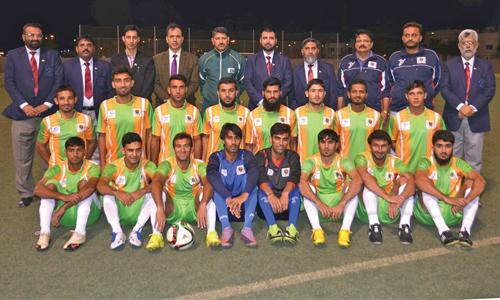 Pakistani football team have won a three-match series by beating Shadab Club Bahrain 6 – 2 in the second match at the National Stadium in Isa Town yesterday.
KPK team had beaten the Rafa Club 2 – 1 in their first match that was played on 22 November at the National Stadium. Last and third match will be played today.
Malik Saad Trust Memorial team from KPK Pakistan is on a seven-day visit to Bahrain since November 20, to play three matches friendly series with the Bahraini clubs.
Bahrain Football Association (BFA) in association with the Asian Sports Union is hosting the tour of KPK football team.
Speaking to the DT News, leading community member Muhammad Khan Tanoli who welcomed the team at the airport said that he was very glad to see the wonderful arrangements made by the BFA and for that the Pakistani community was grateful to the football association. He said that it was a great opportunity for the Pakistani players to share their experience with their Bahraini counterparts and the series of public to public contact between Bahrain and Pakistan should not stop here – it should continue. Bahraini teams should also visit Pakistan in future.
President Bahrain Sports Media Committee and Assistant General Secretary Asian Sports Union Mohammed Qasim earlier stated that the Pakistani football team would be a welcome guest and that they were interestingly looking forward to the moment when the Pakistani players would be among them playing friendly matches with their teams.
Memorial Sports Trust Secretary General Malik Saad and Daily Express Peshawar Resident Editor Amjad Aziz earlier said that it was the first time ever that any football team from KPK was visiting Bahrain.
He had said then that football had become almost a ceased game across Pakistan and in this deplorable situation, it was not less than an achievement to prepare a football team and send that to Bahrain for playing a series.