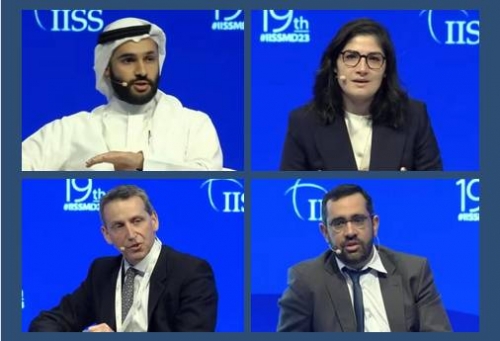 'Future of Middle East' explored in concluding plenary session
TDT | Manama
The Daily Tribune – www.newsofbahrain.com
Reported by Zahra Ayaz
In a thought-provoking concluding plenary session at the International Institute for Strategic Studies (IISS), esteemed members gathered yesterday to discuss the future of the Middle East.
Dr. Bastian Giegerich, the Director-General and Chief Executive of IISS, set the stage by challenging participants to ponder the overlooked aspects of the region, beyond the prevailing focus on the Israel-Hamas conflict.
Dr. Hasan Alhasan, Research Fellow for Middle East Policy at IISS-Middle East, focused on the Gulf perspective. During the panel discussion he emphasised that the conflict had disrupted the shared prosperity agendas of Gulf nations.
Alhasan pointed out that Saudi Arabia and the UAE had attempted to engage both Iran and Israel, seeking a framework of shared interests as a means to foster peace. He also expressed concern over the perceived failure of the United States to deter Iran's actions in the region.
Significant points
Rym Momtaz, Consultant Research Fellow for European Foreign Policy and Security at IISS, raised two significant points. Firstly, she noted the absence of the European Union (EU) and NATO in the ongoing conversation, despite the Middle East being their southern flank.
Momtaz underlined the potential repercussions of the conflict for EU member states, particularly those in the Eastern Mediterranean. Secondly, she highlighted the concerning issue of Syria becoming a major transit point for narcotics entering Europe, emphasising the critical connection between the southern flank and European security.
Pattern of conflicts
Emile Hokayem, Director of Regional Security and Senior Fellow for Middle East Security at IISS, emphasised the pattern of freezing conflicts in the region, hoping that time would defuse the drivers of violence and allow for political settlement.
However, he cautioned that these frozen conflicts had a tendency to reignite unexpectedly, citing examples such as Ukraine and the Israel-Palestine conflict. Hokayem expressed his current concern over the escalating violence in Northern Syria, warning of the potential for another eruption of conflict in the region.
Interesting junctures
John Raine, Senior Adviser for Geopolitical Due Diligence at IISS, identified three states at interesting junctures. He highlighted Iran, which is nearing the end of its political cycle, raising questions about the future of the Middle East as the Iranian revolution reaches its conclusion.
Raine also mentioned Israel, which has been grappling with a middle-life crisis and the uncertainties it poses for the country's future. Lastly, he discussed Saudi Arabia's ambitious Vision 2030 program, which, if successful, could position the kingdom as a significant middle power in the region, bringing both challenges and opportunities.
The plenary session concluded with a thought-provoking exploration of the future of the Middle East. The insights shared by the IISS members shed light on key concerns and potential developments that will shape the region in the years to come.