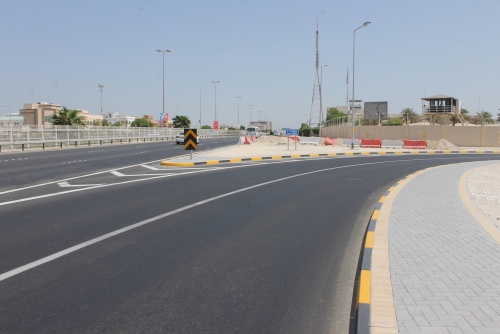 Works Ministry completes deceleration lane construction project in Isa Town
TDT | Manama
The Daily Tribune – www.newsofbahrain.com
The Ministry of Works has announced the successful completion of a project aimed at alleviating traffic congestion in Isa Town.
The project involved the construction of a deceleration lane, expanding the eastern entrance to the educational zone on Bahrain National Charter Street to Route 4013. By expanding the street from one lane to two lanes, the ministry aims to increase capacity, reduce traffic congestion, and improve the flow of vehicles to the educational area.
The capacity of the previous single lane was 850 vehicles per hour, but with the additional lane, the capacity will increase to 1,700 vehicles per hour, a significant 50% increase. As part of the project, an extra lane was built to facilitate right turns from Al Mithaq Street to Road No. 4013.
The project also involved the protection and relocation of several services belonging to the Electricity and Water Authority. The contract for the project was awarded to Bahrain Asphalt Company by the Tenders and Auctions Board, with a total cost of BD80,000.
This infrastructure improvement is part of the fourth phase of efforts by the Ministry of Works to ease traffic congestion at key intersections on the road network, ultimately enhancing the overall transportation experience for residents and visitors alike.