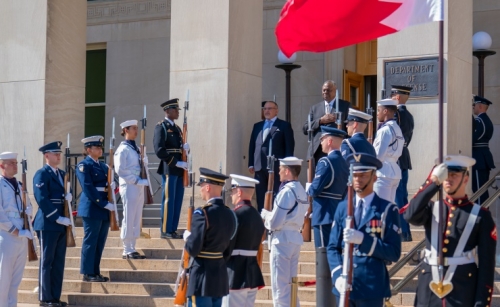 Royal praise for solid Bahrain-US relations
Agencies | Washington
The Daily Tribune – www.newsofbahrain.com
His Royal Highness Prince Salman bin Hamad Al Khalifa, the Crown Prince and Prime Minister, noted that longstanding Bahrain-US relations are based on shared values of fairness, justice, tolerance, peace and diversity.
HRH Prince Salman was speaking as he held a meeting yesterday with US National Security Advisor Jake Sullivan at the White House. It took place during HRH the Crown Prince and Prime Minister's official visit to the US.
During the meeting, Sullivan reaffirmed the US's enduring commitment to Bahrain's security, and thanked HRH Prince Salman for the Kingdom's steadfast partnership, which includes hosting the US Navy's Fifth Fleet and the headquarters of US Naval Forces Central Command.
They praised the signing of the new Comprehensive Security Integration and Prosperity Agreement, which will serve as a cornerstone for cooperation among a broader group of countries that share mutual interests and a common vision with regard to deterrence, diplomacy, and escalation.
The Bahrain and US delegations discussed opportunities to strengthen economic and commercialties under the new agreement, including a target of summer 2024 to launch direct flights between Bahrain and the US.
His Royal Highness and Sullivan also discussed exploring bilateral cooperation on the development of commercial advanced small modular reactors, in line with shared goals of deploying innovative, zero-carbon technologies.
They pledged to stay in regular contact in the coming weeks and months to oversee implementation of the agreement. HRH the Crown Prince and Prime Minister and the Bahraini delegation also participated in bilateral technology dialogue with senior US officials at the White House yesterday to explore ways of deepening cooperation on critical and emerging technologies, including artificial intelligence.
Support for global security and peace
His Royal Highness also met with the US Secretary of Defense, Lloyd J. Austin III, at the Pentagon. During the meeting, HRH Prince Salman emphasised Bahrain's steadfast commitment to supporting efforts to enhance international security, stability and peace, and to address regional and global challenges.
HRH Prince Salman bin Hamad and Austin welcomed the historic signing of the new Comprehensive Security Integration and Prosperity Agreement. They noted that the agreement will significantly bolster shared efforts to protect regional stability.
The meeting also addressed ongoing bilateral military and defence cooperation and covered regional and international developments of common interest.
The National Security Advisor, Secretary-General of the Supreme Defence Council, and Commander of the Royal Guard, HH Lieutenant-General Shaikh Nasser bin Hamad Al Khalifa, the Minister of Foreign Affairs, HE Dr Abdullatif bin Rashid Al Zayani, the Minister of Finance and National Economy, HE Shaikh Salman bin Khalifa Al Khalifa, the Bahrain Defence Force Chief of Staff, Lieutenant-General Theyab bin Saqr Al-Nuaimi, and a number of senior officials also attended both meetings.