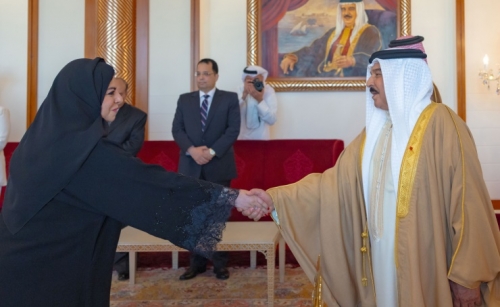 HM King Hamad lauds Bahrain judiciary
TDT | Manama
The Daily Tribune – www.newsofbahrain.com
His Majesty King Hamad bin Isa Al Khalifa has affirmed the Kingdom of Bahrain's pride in its judiciary's long history and pioneering achievements.
HM the King stressed his constant keenness to consolidate the independence of the judiciary, support the judicial branch, and provide it with qualified competencies, given its important role in promoting the principles of justice and equality, preserving rights and freedoms, and enhancing the security and stability of society.
HM King Hamad made the statements while receiving a number of newly appointed judges at Al Safriya Palace yesterday.
The judges took the legal oath before HM the King following the issuance of a royal order appointing them as members of the Court of Cassation, the High Civil Court of Appeal, and the High Sharia Court of Appeal.
HM King Hamad wished the judges every success in carrying out their new patriotic duties to strengthen and consolidate the principles of right, justice, and the rule of law, which are the main pillars of the kingdom's comprehensive development process.
HM the King expressed pride in Bahrain's dedicated judges, who preserve the rights of the citizens and residents and ensure that the rule of law and justice are implemented, stressing the crucial role the judiciary plays in ensuring social development, progress, and stability.