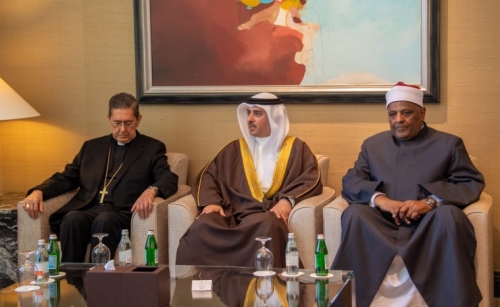 Bahrain promotes interfaith dialogue
Agencies | Hong Kong
The Daily Tribune – www.newsofbahrain.com

Bahrain is committed to supporting efforts and initiatives aimed at promoting interfaith dialogue and building bridges of communication between diverse peoples and cultures.
This was emphasised by Justice, Islamic Affairs and Endowments Minister Nawaf bin Mohammed Al Maawda who said it contributes to the consolidation of the principles and values of human coexistence, upholding the spirit of tolerance, and spreading peace.
Al Maawda was speaking as he met yesterday members of the Standing Committee for Islamic-Christian Dialogue between the Council of Muslim Elders and the Vatican. This came on the sidelines of the first meeting which was held yesterday by the Standing Committee in the Kingdom of Bahrain.
Al Maawada conveyed greetings from His Majesty King Hamad bin Isa Al Khalifa and His Royal Highness Prince Salman bin Hamad Al Khalifa, the Crown Prince and Prime Minister.
He praised the efforts made by the Chairman of Supreme Council for Islamic Affairs (SCIA) Shaikh Abdul Rahman bin Mohammed bin Rashid Al Khalifa, to interfaith promote dialogue.
The Muslim-Christian Dialogue Permanent Committee was set up per a memorandum of understanding between Abu Dhabi-based Muslim Council of Elders and the Dicastery for Interreligious Dialogue, in the Vatican City.
The committee is one of the outcomes of Bahrain Forum for Dialogue: East and West for Human Coexistence, which was hosted by the Kingdom of Bahrain in November in conjunction with the historic official visit to the Kingdom of Bahrain of His Holiness Pope Francis and Al Azhar's Grand Imam Dr. Ahmed El-Tayeb, the Chairman of the Muslim Council of Elders. The visit was made at an invitation by His Majesty King Hamad bin Isa Al Khalifa.